University of New Brunswick professor heralded with distinguished teaching award
Author: Communications
Posted on Sep 23, 2016
Category: UNB Fredericton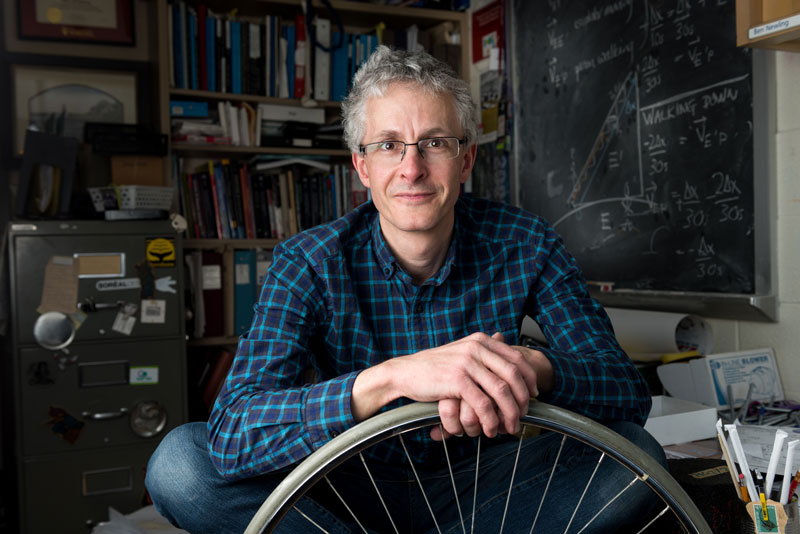 UNB physics professor Dr. Benedict Newling has received a 2016 Association of Atlantic Universities' Distinguished Teaching Award.
This award recognizes outstanding teaching through a proven commitment to enhanced student engagement, a reflective and intentional approach to teaching practices, and dedication to improving teaching methods.
"Teaching and knowledge transfer are at the core of UNB's academic mission. Ben is an example for all of us, a gifted professor admired by his students for his standards, his dedication, and his humour," says Dr. George MacLean, UNB vice-president academic (Fredericton). "He is highly deserving of this award and we are proud to have him as part of our academic community."
Dr. Newling joined the physics department on the Fredericton campus in 2002. He enjoys his research in materials magnetic resonance imaging, but also has a great passion for teaching. He is known for his interactive, engaging, and research-based teaching methods.
"I try to create a sense of wonder, to show that a few simple laws of physics explain so much of what happens around us," says Dr. Newling. "It is a tremendous privilege to be involved as my students learn and succeed. It is a great honour to be recognized by the AAU through this award. It also reflects the support I receive from UNB, from my wise colleagues and from my fabulous family."
This is the second consecutive year a UNB professor has received this award. Dr. Emin Civi, faculty of business at UNB Saint John, received a 2015 AAU Distinguished Teaching Award, while Dr. Dale Roach, department of engineering at UNB Saint John, received the 2015 Educational Leadership Award. Since 1991, the AAU has recognized 10 UNB faculty members for their commitment to, and leadership in, education.
AAU Member universities can propose nominees for these awards and the association's coordinating committee on faculty development selects recipients. The 2016 teaching awards were handed out Sept. 21 at Cape Breton University.
The AAU represents the 16 universities in Atlantic Canada, is an advocate for the important role Atlantic universities play in preparing future leaders of our communities, in path-breaking research and innovation, and in contributing to the economic prosperity and quality of life of the Atlantic region.
Media contact: David Stonehouse
High-res photo for editors and reporters