UNB Saint John athletes named national scholars
Author: Communications
Posted on Sep 21, 2016
Category: UNB Saint John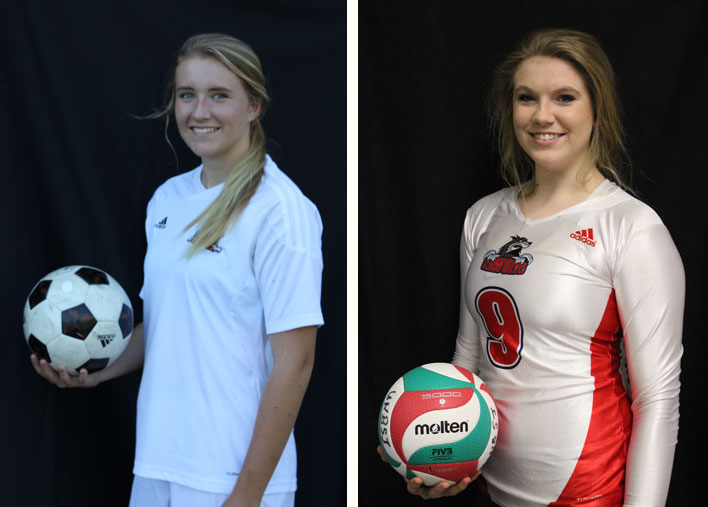 Kaitlin Casey and Katherine Houser
Sixteen members of the UNB Saint John varsity athletics program received Canadian Collegiate Athletic Association (CCAA) Academic National Scholar Awards for the 2015-16 season. They are:
Kathryn Magee, basketball
Allyson McLaughlin, basketball
Marcel Boudreau, basketball
Jarred Crawford, basketball
Lars Moffatt, basketball
Andrew Robart, basketball
Antonio Duplessis, soccer
Bruce Savoie, soccer
Kaitlin Casey, soccer
Madison Long, soccer
Kayla Nice, soccer
Jenna DeGooyer, volleyball
Alannah Hansen, volleyball
Madison Hartos, volleyball
Katherine Houser, volleyball
Patrick Kendall, volleyball
The National Scholar Award is designed to recognize the outstanding academic accomplishments of CCAA student athletes.
"We are excited to have CCAA National Scholar Award recipients," said David Munro, athletics director at UNB Saint John. "Playing on a varsity team and attaining a 3.7 grade point average is not easy. It is a tremendous accomplishment. These students have worked hard to reach this level of achievement and we are very proud of them."
To be recognized, a student athlete must achieve honours standing at their institution in the current academic year. From last year's 94 CCAA member institutions, 870 student athletes were awarded the prestigious honour in their pursuit of academic and athletic excellence.
Katherine Houser and Kaitlin Casey were also named CCAA Academic All-Canadians.
"Being a CCAA Academic All-Canadian is the most prestigious student athlete honour. These student athletes are the best in the conference academically and athletically and fully deserve the accolades associated with the award."
Honourees must attain academic honours at their institution in addition to obtaining one of the following athletic achievements:
named to their member conference All-Star team (first or second) in soccer, volleyball, basketball or curling;
earn a gold or silver medal at their member conference badminton championships;
finish among the top seven men or women as well as finishing in the top third at their member conference cross-country running championships;
finish among the top three women or top five men as well as finishing in the top third at their member conference golf championship.
Media contact: Heather Campbell