Sir Howard Douglas Scholars inducted at the University of New Brunswick
Author: Communications
Posted on Sep 27, 2016
Category: UNB Saint John , UNB Fredericton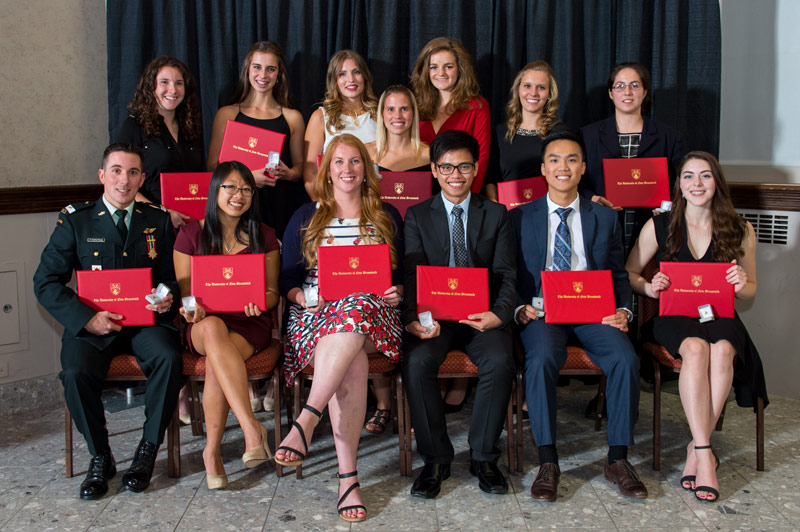 Front row, from left: Terry Fitzpatrick, Amanda Eng, Christena Dykstra, Marc Montero Cuizon, Tuan Bui, Lauren Adam. Back, from left: Emily Jackson, Nadia Kashetsky, Charlotte Pyke, Alyson Pickard-Tattrie, Gabrielle Robin, Brittany Rioux, Marija Veljanovska. Not shown (unable to attend): Kelsie Armstrong, Anna Caulfield, Sarah Evans, Geneva McSheffery.
Involvement in their university and community, plus excellent grades, has earned 17 University of New Brunswick students the distinction of being inducted into the Sir Howard Douglas Society.
The award recipients volunteer their time and talent in a number of ways, both locally and internationally, and are all dean's list students.
"Our students are the problem solvers of today and tomorrow," said UNB President Eddy Campbell. "The Sir Howard Douglas Scholars are a shining example of what can be achieved through dedication, compassion, and a willingness to help others. At an early stage in their lives, these students are already making a difference."
Nominated by their faculties, the scholars must have completed at least two years of their bachelor's degree program, achieved academic excellence and actively participated in co-curricular or extracurricular activities.
At a dinner in their honour, Shelley Doucet, Jarislowsky Chair in Interprofessional Patient-Centred Care at UNB, addressed the 2016 scholars.
Members of the Sir Howard Douglas Society have the opportunity to participate in special university events and become part of a network of outstanding students. As the honour society grows each year, new members will have the opportunity to meet and interact with past recipients of the Sir Howard Douglas Award.
Born in Scotland, Sir Howard Douglas served as lieutenant governor of New Brunswick from 1823 to 1831. During his term, he encouraged development, sought support for native peoples, improved communications and promoted education. Sir Howard was a founder and the first chancellor of King's College Fredericton, predecessor to UNB.
Established in 2006, the Sir Howard Douglas Society of Scholars has 204 members, including this year's inductees.
Media contact: Heather Campbell
High-res photo for editors and reporters