UNB students alumni and professors shoot new film
Author: Communications
Posted on Jul 25, 2016
Category: UNB Fredericton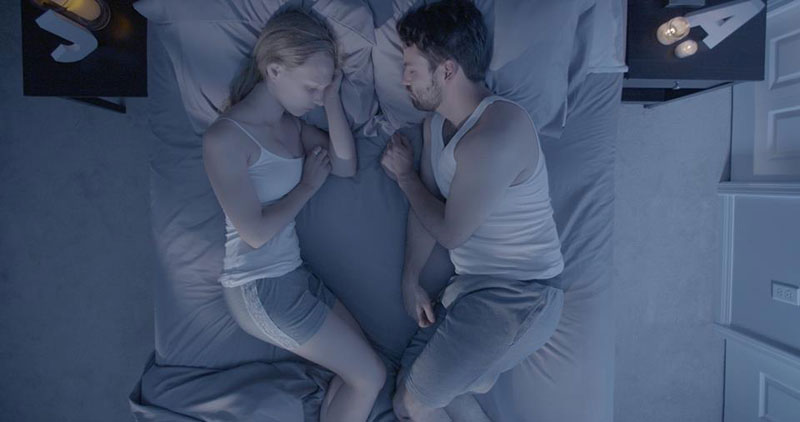 UNB students, graduates and professors just wrapped principal filming on a new short film, Chiaroscuro. Directed by Amy Bourgaize,"Chiaroscuro" follows Abel who is turning 30, single and worried about his snoring problem. After he records himself sleeping he unexpectedly discovers a visitor - a mysterious woman who creeps into his bed once the lights are out. He then has to decide what lengths he will go to for comfort.
The cast included professor John Ball from the department of english. Several faculty and staff appear as extras. The crew also featured several media, arts & culture and education students and graduates.
Bourgaize is a high school teacher and filmmaker who completed her BA, BEd and her master's of education degree in critical studies at UNB. She received the prestigious Joy Award at the Silver Wave Film Festival in 2015 to make the film. She has produced over fifteen student films as a lead teacher in Anglophone West School District's What's Up Doc? film program. This project uses participatory video to enable students to explore social issues in their lives through documentary filmmaking.
The screenplay was written by UNB screenwriting professor, Dr. Robert Gray, based on the short story from his collection Entropic which just won the East Coast Book Awards. The film was produced by Frictive Pictures, a production company Dr. Gray started with award-winning filmmakers Jon Dewar and Dr. Matt Rogers, both former graduates of UNB's english and education departments. Dr. Matt Rogers just recently joined UNB's education faculty.
Bourgaize is now editing the film with the aim to submit it to New Brunswick's Silver Wave Film Festival and other festivals in the fall.
Media Contact: Hannah Classen