Experts descend on Fredericton for the Hockey Conference at UNB
Author: Communications
Posted on Jul 5, 2016
Category: UNB Fredericton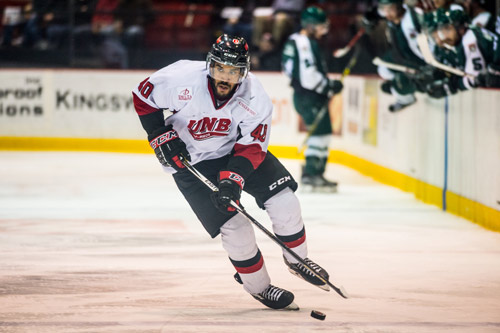 Researchers from around the world have started to land in Fredericton for the Hockey Conference at the University of New Brunswick on July 6 and 7.
The conference will see 50-plus researchers and practitioners present and discuss hockey topics, including analytics, gender, coaching, the body, history, nationalism and more.
Hockey experts from the city, province, and beyond will attend. These include former Olympic and NHL coaches Ted Nolan and Tom Coolen, NHL scout Luc Gauthier, Montreal Canadiens psychologist Dr. David Scott, and former NHL coach Mike Johnston. Paralympic sledge hockey gold medalist Billy Bridges will provide the keynote address at a banquet dinner on July 7.
Students, coaches, and participants are also invited to play in a sledge hockey game. Coaches are able to complete one National Coaching Certification Program course (the Basic Mental Skills Module).
"This conference brings together the best and brightest in the world of hockey," said conference organizer Jonathon Edwards. "The addition of a sledge hockey game at this year's conference provides an extra opportunity to learn, grow and have fun. We're attempting to make the Hockey Conference accessible to all, not just academics, and we look forward to showing Maritime hospitality to our friends around the world."
Through partnerships with Government of Canada, City of Fredericton, Easter Seals New Brunswick, Hockey New Brunswick, Coach NB, Fredericton Youth Hockey Association, Windsor Castle Bar, St. Thomas University and the University of New Brunswick Faculty of Kinesiology, the Hockey Conference provides academics and practitioners an opportunity to discuss hockey around the world and through different lenses.
Conference contact: Jonathon Edwards
Media contact: Kelsey Pye