UNB chosen by IBM for Watson for Cyber Security project
Author: Communications
Posted on May 10, 2016
Category: UNB Fredericton , UNB Saint John , myUNB
[embedyt] http://www.youtube.com/watch?v=scC04wJ8tRA[/embedyt]
UNB is one of only eight universities in North America chosen by IBM to help the global firm adapt its iconic Watson cognitive technology for use in the cybersecurity battle.
"This is a tremendous opportunity for the University of New Brunswick that fits well with our proud and productive partnership with IBM," says Eddy Campbell, president of the University of New Brunswick.
"The fact that we are one of three universities in Canada to be chosen for this work speaks to our leadership role in cybersecurity research. We're a best-kept secret no more," Dr. Campbell says.
The University of New Brunswick joins the University of Ottawa, the University of Waterloo, California State Polytechnic University, Pomona; Pennsylvania State University; Massachusetts Institute of Technology; New York University; the University of Maryland, Baltimore County (UMBC), for the Watson for Cybersecurity project.
"We're pleased to take part on this project with IBM," says Dr. Ali Ghorbani, dean of the faculty of computer science at the University of New Brunswick.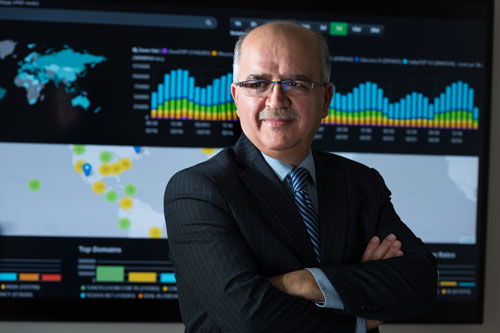 "We've been working hard with IBM for years on solutions to the growing threat of cybersecurity," Dr. Ghorbani says. "This project with Watson has tremendous potential to be a game-changer."
Computer science students at UNB and the other partner universities will be drafted to help Watson process and analyze massive amounts of cybersecurity data, including some 20 years of security research, details on 8 million spam and phishing attacks and more than 100,000 documented vulnerabilities.Â
"I'm excited to be working on this next-generation project with IBM," says Rizwan Ali, a master's of computer science student at the University of New Brunswick. "This puts me squarely on the ground floor, working on something that truly has the potential to transform the cybersecurity battleground in favour of the good guys."
The project is part of a pioneering cognitive security project to address the looming cybersecurity skills gap while helping train Watson on the nuances of security research findings and discover behaviour patterns and evidence of hidden cyber attacks and threats that could otherwise be missed. IBM efforts are designed to improve security analysts' capabilities using cognitive systems that automate the connections between data, emerging threats and remediation strategies.
IBM says it chose UNB because of its long collaboration with the university on cybersecurity research, stretching back more than 15 years. And in 2011, the firm purchased Q1 Labs, a Fredericton security software firm that was born at UNB. IBM also has a long record of hiring UNB graduates.
"Even if the industry was able to fill the estimated 1.5 million open cybersecurity jobs by 2020, we'd still have a skills crisis in security," said Marc van Zadelhoff, General Manager, IBM Security. "The volume and velocity of data in security is one of our greatest challenges in dealing with cybercrime. By leveraging Watson's ability to bring context to staggering amounts of unstructured data, impossible for people alone to process, we will bring new insights, recommendations, and knowledge to security professionals, bringing greater speed and precision to the most advanced cybersecurity analysts, and providing novice analysts with on-the-job training."
"At the University of New Brunswick, we prize opportunities for our students to help companies and organizations find solutions to real-world problems," Dr. Ghorbani says. "This work with Watson and IBM is yet another example of the kinds of transformative experiences our students can expect."
More information on IBM Watson
More information on IBM Security
About IBM SecurityÂ
IBM Security offers one of the most advanced and integrated portfolios of enterprise security products and services. The portfolio, supported by world-renowned IBM X-Force® research, enables organizations to effectively manage risk and defend against emerging threats. IBM operates one of the world's broadest security research, development and delivery organizations, monitors 20 billion security events per day in more than 130 countries, and holds more than 3,000 security patents. Follow @IBMSecurity on Twitter using #CognitiveSecurity or visit the IBM Security Intelligence blog.
MEDIA CONTACTS:
David Stonehouse
Senior Manager, Communications
University of New Brunswick
(506) 458-7925
david.stonehouse@unb.ca
Kelly KaneÂ
External Relations, IBM SecurityÂ
413-297-2668
kkane@us.ibm.com Â