Major investments being made in innovation-based study research
Author: Communications
Posted on May 12, 2016
Category: UNB Fredericton , UNB Saint John , myUNB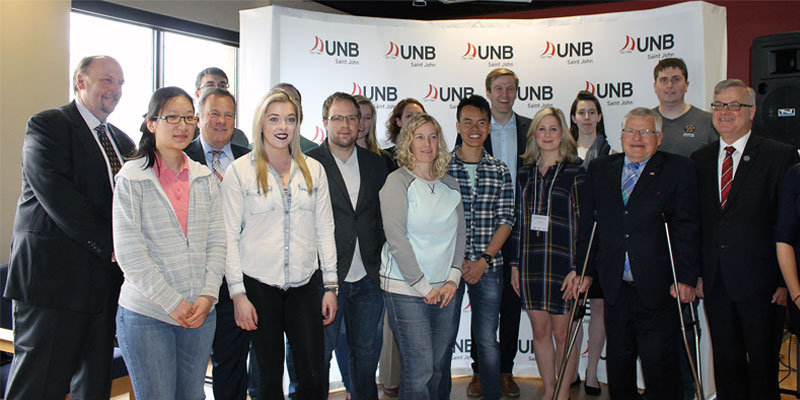 The provincial government, through the New Brunswick Innovation Foundation, has awarded 188 students with New Brunswick Graduate Scholarships. Premier Brian Gallant participated in a recognition event Friday as part of Innovation Week.
"Investing in education is key for the New Brunswick economy to be innovative," said Gallant. "Helping these students further their studies here in our province will help provide a strong workforce for the New Brunswick economy."
The students received a total of $1.2 million from the foundation, an additional $686,000 from their host institutions and $1.7 million from national granting agencies.
"UNB has some of the best and brightest researchers, not only in the province, or the country but also in the world," said Dr. Robert MacKinnon. "They are solving real-world problems and leading discovery and innovation that is advancing social, economic and cultural development."
In addition, $945,000 has been leveraged to hire 113 student research assistants, and $520,000 is being invested in startup grants to attract seven new professors who have joined the faculty at the University of New Brunswick, Université de Moncton and the Collège Communautaire du Nouveau-Brunswick in Grand Falls.
Gallant said the new professors and student research assistants are joining the learning environment to help inspire young minds and grow new innovators in the province.
The New Brunswick Graduate Scholarships range from $4,000 to $7,000 per year for masters or doctoral studies at publicly funded New Brunswick post-secondary institutions. They are administered by the foundation on behalf of the provincial government.
Their purpose is to recognize academic excellence and encourage students already studying in the province to undertake their graduate studies and launch their careers in New Brunswick. The scholarships also attract talented graduate students from other parts of Canada and the world. The fields of study are science, technology, engineering, math and social innovation.
Media contact: Heather Campbell
(Photo: Dr. David Burns, Minister Rick Doucette, Premier Brian Gallant, Minister Ed Doherty, Dr. Robert MacKinnon and NBIF recipients)