First LPN BN bridge students receive Bachelor of Nursing degree
Author: Communications
Posted on May 27, 2016
Category: UNB Saint John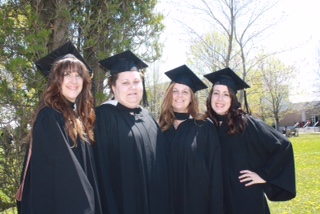 This past week 19 students from the first cohort of the UNB Saint John's Licensed Practical Nursing (LPN) to Bachelor of Nursing (BN) Bridge pilot walked across the stage to receive their diplomas during spring convocation.
The LPN-BN Bridge pilot is a cluster of six courses which, when completed successfully, allow Practical Nurse graduates from the New Brunswick Community College/Collège communautaire du Nouveau-Brunswick (CCNB) system to transition into year three of the BN program at UNB Saint John. This pilot is supported by Department of Post-Secondary Education, Training and Labour, and with funding received through the New Brunswick Council on Articulations and Transfers.
Dr. Karen E. Furlong, Acting Chair of the Department of Nursing and Health Sciences acknowledges the work of faculty in the set-up and delivery of this pilot – in particular, Dana Manzer for her lead role in advising and supporting students during bridging coursework experiences and throughout the remainder of their BN program.
"UNB Saint John has been proudly educating nursing students since 1985. Since that time, we've consistently enhanced our programs and continued to develop relevant curriculums that reflect emerging trends," said Dr. Robert MacKinnon, Vice-President, UNB Saint John. "This pilot is an example of our ongoing commitment to creating a climate for the advancement of excellence in nursing practice."