UNB honoured for being a top contributor to the United Way
Author: Communications
Posted on Apr 6, 2016
Category: UNB Fredericton , myUNB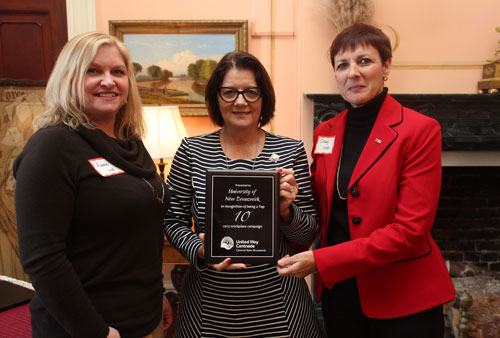 The University of New Brunswick has earned a place in the top 10 of all United Way campaigns in the province.
UNB was lauded at a recent ceremony held by the United Way at Government House in Fredericton for its efforts. UNB has been an active contributor to the charitable group's campaigns for many years. The Fredericton campus has raised more than $62,685 in 2015 – ranking it sixth in central New Brunswick.
"This is tremendous recognition of our people," said Eddy Campbell, president and vice-chancellor at UNB and a co-chair for the Fredericton campaign. "For years, our employees and retirees have given generously to people and organizations in great need by giving to the United Way campaign."
Since 2011, more than $329,000 has been raised by the Fredericton campus campaign. This is something that is no surprise to Shelley Clayton, director of financial aid office in Fredericton.
"I have witnessed first-hand the generosity of university staff and retirees in supporting our local care agencies and their devotion to making a difference in the lives of Fredericton and area residents," Ms. Clayton said. "It has been a huge honour to co-chair the United Way campaign."
Jeff Richardson, executive director of United Way Central NB, said the ongoing commitment of the staff, faculty and retirees of UNB to their community is inspiring.
"Year after year, through participation in United Way's annual campaign, UNB has made a real difference in the lives of people in Fredericton, Oromocto and throughout Central New Brunswick," Mr. Richardson said. "UNB's donations help to reduce poverty and homelessness, address issues like mental health and domestic and sexual abuse, and help kids be all they can be. We are incredibly fortunate to have such caring individuals making change and creating possibility in our community."
The dedicated donors on the Saint John campus also raise money every year to the benefit of United Way fundraising in the Saint John area – about $95,000 over the last decade.
A donation to United Way reaches a wide variety of health and human care agencies that provide essential services to children, youth, families, seniors and the disabled.
For more information on UNB's efforts to raise money for the United Way or to contribute, please contact Shelley Clayton on the Fredericton campus or Tara Smith on the Saint John campus.