Projects wow and students shine at engineering symposium
Author: Communications
Posted on Apr 26, 2016
Category: myUNB , UNB Fredericton
The second annual UNB Engineering Design Symposium was held on March 31at the Fredericton Convention Centre, where final-year engineering students presented their capstone design projects to potential employers, industry and community partners, and the public.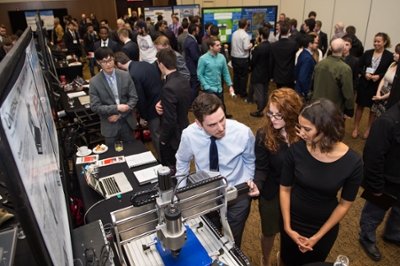 Every engineering stream was represented: chemical, civil, electrical & computer, geodesy and geomatics, geological, mechanical, software, and UNB's Technology Management and Entrepreneurship program.
The students, many of whom worked on a project sponsored by industry or government partners, had the chance to demonstrate how their prototype worked, as well as host a public presentation.
More than 600 people – engineering students, faculty, and staff, along with UNB engineering alumni, industry partners, and the general public – walked through the rows of design projects.
"The Engineering Design Symposium was a great success," said Dr. Michel Couturier, NSERC-UNB chair for collaborative engineering design education. "Our students were able to present their projects, the result of seven months of design work."
Top prizes were awarded to the best in each engineering discipline. In total, more than 60 students received recognition for their projects. But everyone impressed at the symposium.
"I continue to be blown away by the work our engineering students put into their projects every year," said Dr. Couturier. "They are professional about their work because when they enter the workplace, they have to be."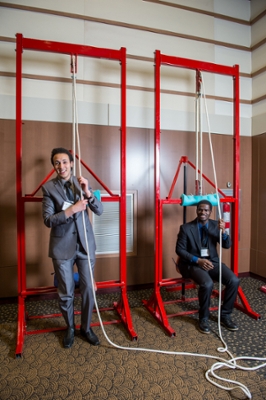 First-place award winners from the 2016 UNB Engineering Design Symposium 
Chemical:
Daniel Blake, Stephen Flanagan, Sebastian Taviss, Hilary Tomney: Hydrogen Plant for Irving Oil Refinery 
Civil: 
Best Technical Report
Pablo Puente, Avery Gilks, Lisa Pfister, Meghan Hopper, Mirella Jupic: Starkey Brook Culvert
Best Presentation and Poster
Brianna Morehouse, Bryanna Noade, Colton Cameron, Reagan Tracey, Rudy MacDonald: Waterloo Row Bridge
Electrical and Computer Engineering: 
John F. Murphy Prize
Sam Jesso, John Abiertas, Danny Vent: Autobit 
IEEE NB Section Prize
Cody Stewart, Philip Mullin, Wisdom Koi, Eric Smith, Scott Mazerolle: GUI and Control System for Research Board Press
Geodesy and Geomatics Engineering 
1st Place and $1,000 award from the Canadian Institute of Geomatics NB Branch
Shaolun Liu: Argo Floats Multi-dimensional Data Extraction and Application
Mechanical Engineering
Brandon Howland, Matt McLean, Jordan Nesbitt: Stewart Platform
TME 4025 Product Design & Development winners:
Alex Battah, Jonathan Waye, Kris Bowman, Alex Wall: Saros