Students Strive to Change the Story at YES Atlantic summit
Author: Communications
Posted on Mar 9, 2016
Category: UNB Fredericton , myUNB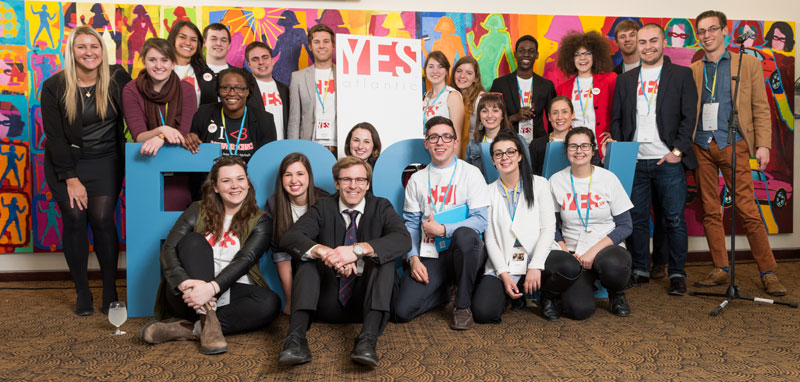 What do you get when you have 27 students who are motivated to make a change in the region? YES Atlantic, a two-day summit designed to help "Change the Story" of Atlantic Canada, is a result of planning and preparation by some of New Brunswick's most passionate students who are eager to change the narrative of this region.
Every year, the Pond-Deshpande Centre's Student Ambassadors host their Youth Entrepreneurship Summit, YES Atlantic, to engage their fellow students with entrepreneurship and innovation. This year, our 27 Ambassadors have created a mandate that goes beyond inspiration to action. Our Student Ambassadors see many opportunities for youth to create the communities in which they want to live, work and create meaningful employment. They are looking to change the narrative of the Atlantic region by showcasing the positive and inspirational stories and organizations currently existing on the East Coast of Canada.
'Our ambassadors look around and the current attitude in the region confuses them," said Joanna Nickerson, social and innovation manager at the Posh-Despande Centre. "They see the issues, they aren't blind to them, but for every issue they also see an opportunity to make a difference and this is what drives them. People working together to make meaningful change. That's the story of the Atlantic region that they want to tell."
The two-day summit encourages youth to take action, seize opportunities, leverage support and join the entrepreneurial community in Atlantic Canada. This year, YES will bring together students from different background across the Maritimes to participate in dialogues, workshops, networking opportunities and a pitch competition sponsored by National Bank.
"This is the third cohort involved in the planning of YES since its inception, and it's always amazing to see each group's interpretation of the event," said Karina Leblanc, executive director of the Pond-Despande Centre. "One thing that always stands out is that no matter the theme or the different content there's one core message of the summit – our youth want to be heard and want their peers to be heard, and they use the summit as a way to facilitate this. It's now up to us to actively listen to what they are saying and support them in their goals."
This year, YES Atlantic will host the Fredericton premiere screening of The Millennial Dream documentary. The screening will be open to the public and will address the issues around outmigration in our region and the rise of companies that strive to make a positive impact in their communities.
YES Atlantic 2016 should not be missed. Tickets can be purchased for both the Summit and The Millennial Dream premiere through Eventbrite.
Media contacts