Student Pitch Competition celebrates 10 years of producing local businesses
Author: Communications
Posted on Mar 15, 2016
Category: UNB Saint John , UNB Fredericton , myUNB
It's been a decade of launching local businesses for the J Herbert Smith Centre for Technology Management and Entrepreneurship (TME).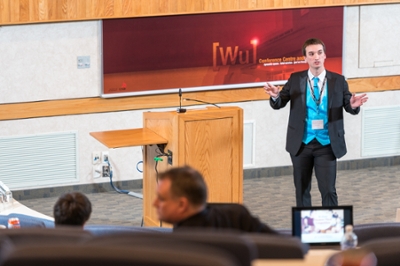 TME at the University of New Brunswick is hosting its 10th annual Student Pitch Competition on Thursday, March 17 at the Wu Centre.
Student entrepreneurs pitch their ideas to the audience, which is comprised of judges, the public, and their fellow students. They pitch for three minutes each, followed by a three-minute question and answer period. Thirty new ideas will be introduced at the event.
The pitch competitions are open for public viewing, with pitch periods beginning at 1:20, 2:45, and 4:20 p.m.
As always, the students will be pitching new and revolutionary ideas from every field. These include:
Limbic: Motorized skateboards controlled by bodyweight/motion
Stash: How to store extra energy in an underground tank during non-peak times of the day
Sarros: Training goaltenders to have better positioning through real-time alerts instead traditional video replay
Remote Vision: a new business that uses drone work for asset management, such as construction projects
Since its inception, TME's Student Pitch Competition has resulted in several startups including Resson Aerospace, Hotspot Parking, and Smart Skin Technologies. The event includes an awards dinner, where students are hoping to walk away with cash prizes. Last year's event saw more than $8,000 in prizes awarded to students. 
Media contact: Natasha Ashfield