A year of sustainability at UNB s Fredericton campus
Author: Communications
Posted on Mar 18, 2016
Category: myUNB , UNB Saint John , UNB Fredericton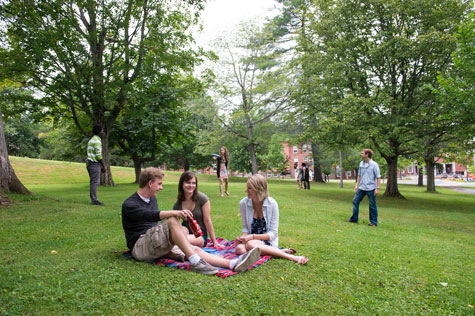 Did you know that in the last year, the University of New Brunswick's Fredericton campus saved enough water to fill the an average Fredericton water tower 74 times? This is just one example of how UNB's Fredericton campus is working to be environmentally sustainable.
UNB Fredericton's Facilities Management Sustainability Program has recently launched the first issue of The Green Review, an annual publication that showcase's environmentally sustainable initiatives on campus.
The Green Review is the first university publication of it's kind in the Maritimes. It includes facts and information surrounding sustainability efforts on campus. The Sustainability Program at UNB's Fredericton campus supports and encourages environmental sustainability on campus, helping us to build a better university and advancing UNB as a leader in sustainability.  
"We are looking to encourage more students, faculty and staff to exercise sustainable practices in their everyday lives by including tips on how they can live more sustainably" says Danielle Smith, UNB Fredericton campus' Sustainability Coordinator. "UNB Sustainability could not be successful without all the great work done by the green champions from various departments showcased in The Green Review."
In the last 12 months, the program has implemented numerous initiatives and projects on campus including: wildlife friendly gardens and a medicine wheel garden, building and waste audits of various UNB buildings, and engagement initiatives such as 'Earth Day Every Day'.
Media contact: Sarah Williams