UNB prof develops novel exercise program for overweight Canadians
Author: Communications
Posted on Feb 19, 2016
Category: UNB Fredericton , myUNB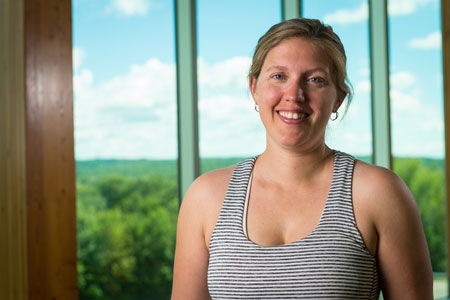 A University of New Brunswick kinesiology professor is recruiting participants for a study to see if her new exercise program can get people who don't like exercise to be active.
Danielle Bouchard has developed a program called Resistance+ that she's hoping will help people overcome the barriers that most overweight Canadians cite for not exercising - lack of time and lack of enjoyment.
"Unfortunately, only about 13 per cent of overweight Canadian adults currently reach Canadian Physical Activity Guidelines," said Dr. Bouchard. "In an effort to overcome these barriers, we have developed and tested Resistance+. It is a new approach to resistance training that could potentially reduce weekly commitment, increase enjoyment and health outcomes without aerobic exercise."
Dr. Bouchard says most overweight and obese Canadians are physically stronger than other weight categories. As a consequence they generally feel more confident doing strength and resistance training as opposed to aerobic training.
"Our new program will help participants work on their strength and build their cardiovascular systems by doing a resistance program that will do both at the same time," said Dr. Bouchard. "I'm hoping that participants will enjoy the workouts, feel confident in the results and decide to continue exercising after the 12 week program is complete."
Dr. Bouchard says in light of the large number of overweight Canadians who are inactive and at greater risk of cardiovascular diseases, this study is timely and important to Canadians—particularly New Brunswickers who have one of the highest rates of obesity in the country.
The research team is currently recruiting 20 adults between the ages of 19 and 64 to participate in the study held at UNB's Richard J. Currie Centre for 12 weeks. The main goal is to verify if overweight inactive adults who participate in the Resistance+ program will have the same health outcomes compared to the traditional Canadian Physical Activity Guidelines after 12 weeks, which include resistance training and aerobic exercises.
To be eligible, participants must achieve less than 100 minutes of aerobic exercises in 10-minute bouts at moderate to vigorous intensity and less than two days of resistance training; be considered overweight; be medically cleared to start exercise if judged necessary; and be interested in exercising, on your own schedule, for 12 weeks.
To learn more or to participate, contact the research team at exercisestudy2016@unb.ca or 506-458-7034.
Media contact: Natasha Ashfield