Making every river a healthy river UNB s Canadian Rivers Institute celebrates 15 years
Author: Communications
Posted on Feb 12, 2016
Category: myUNB , UNB Fredericton , UNB Saint John
The University of New Brunswick's Canadian Rivers Institute (CRI) is celebrating its 15th anniversary this week.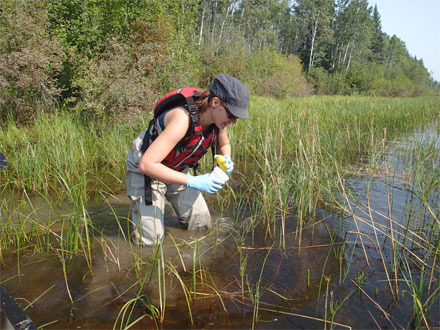 Since launching in 2001, the CRI has become internationally recognized as the go-to source for advancing river, estuary, and watershed sciences and ecological sustainability. It is a collaboration of researchers at UNB Fredericton and Saint John with a mandate to develop the aquatic science needed to understand, protect and sustain water resources for the region, nation, and the planet.
With the vision of making every river a healthy river, throughout the past 15 years the CRI has expanded beyond its Canadian roots and has developed projects and course offerings around the globe.
"It's incredible to think how, over the course of 15 short years, the institute has grown from the determined efforts of four of UNB researchers into an institute of national and international renown," UNB President Eddy Campbell said.
"The Canadian Rivers Institute is a terrific example of the impact research excellence at UNB can have on our province, our region and beyond," Dr. Campbell said. "Through partnerships with government, industry and universities around the globe, the institute has become one of the world's best places to study river sciences."
The CRI was founded in 2001 by four UNB researchers: Allen Curry, Deborah MacClatchy, Kelly Munkittrick and Rick Cunjak. Today, it is comprised of 19 Science Directors, 81 Research Associates, 88 students, 30 research and administration staff, and more than 230 alumni.
"The partnership between UNB and CRI has been critical and ensures the institute's capacity to pursue important national and international research, as well as scientific and educational projects and collaborations," states Michael van den Heuvel, the CRI's director based at the University of Prince Edward Island. "At CRI we use the best available science to find answers to the important questions being asked today. Whether it's a level of government asking about developing regulations, or industry looking to develop better management processes, every one of our projects is linked to a question that needs an answer. That's fundamental to the CRI."
Student training and professional development is at the centre of everything CRI does, according to Anne Levesque, CRI's executive director.
"The CRI directors and associates are leaders in their fields. Their experience and scientific insights, coupled with our courses, workshops and project opportunities, provides a new generation of aquatic science students and professionals with new tools and a better understanding to tackle today's challenges."
The institute is internationally recognized for its public-private partnerships to advance applied research to current management practices. Some of the current projects demonstrating the institute's excellence in applied science include:
Environmental Science in Support of the Mactaquac Dam Project (MAES-Mactaquac Aquatic Ecosystem Study)
Environment Canada's Integrated Oil Sands Monitoring Plan
Development of an internationally-recognized stable isotope lab
Community stakeholder-driven research to develop a cumulative effects monitoring program for the Saint John Harbour and the Northumberland Strait Environmental Monitoring Partnerships
Environmental Flow Guidelines for Resource Development in NB, Understand Surface Water Conditions in Areas of Potential Shale Gas Development, Baseline Assessment of Domestic Well Water Quality in Potential Shale Gas Regions of New Brunswick
Examining Atlantic Salmon in NB rivers
Development of new genomics approaches for environmental monitoring
Partnership within the UK for an international project focusing on the Arctic Ring of Fire "Impacts of global warming in sentinel systems: from genes to ecosystems"
Investigating the impacts of permafrost degradation on riverine biota and led an International Polar Year assessment that established the ecological legacy conditions of >100 rivers in the eastern Canadian Arctic
Partnership with the National CABIN team of Environment Canada to develop and provide a certification program which uses national standardized protocol for aquatic biomonitoring and assessment
A few key projects from the past include:
More than 100 research papers collated in the 2011 Saint John River State of the Environment Report
Development of the biotic assessment tool for the Water Classification Regulation in New Brunswick
Environment Canada's Environmental Effects Monitoring for the pulp and paper and metal mining industry (2005 NSERC Synergy Award for Innovation)
Media Contact: Natasha Ashfield