Faculty of arts welcomes the public for Open Classrooms 2016
Author: Communications
Posted on Feb 29, 2016
Category: myUNB , UNB Fredericton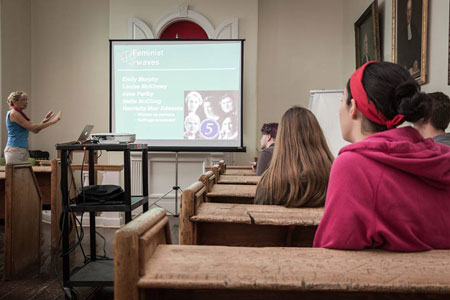 If you've ever wondered what goes on behind closed classroom doors in the faculty of arts, now's your chance to find out. As part of Arts Expo 2016 – Open Classrooms, the faculty of arts at UNB Fredericton is opening close to 30 different classes to the public on March 1 and 2, 2016.
UNB has a long informal history of inviting community members into the classroom, but this is the second year that the faculty of arts has come together to offer a block of open classes over a specific period of time.
"It's a really great way for incoming students, current students and community members to get a feel for what it's actually like to take a class in the faculty of arts in whatever topic you're interested in," said Tabatha Armstrong, student engagement, communications and research officer for the faculty of arts.
"And as a parent, if your child is on the fence about attending university or is intimidated about coming to university, this is a great way to test it out," Armstrong added. "They can see themselves in that space in a way that's not very intimidating."
The faculty of arts is looking to build from last year's event, which saw Lauren Cruikshank's gender and media class more than double in size from 30 to around 80. Dr. Cruikshank is keen to welcome the public in once again, this time to her popular culture course.
"It happens to fall in the week that we're doing subculture and counterculture," said Dr. Cruikshank, assistant professor of media, arts & cultures in the department of culture and language studies.
"There's a little bit about skateboarding and a little bit about punk rock music. We talk about counterculture movements in the '60s and the Occupy movement, how resistance works in popular culture, how it can critique or even be absorbed into history – how we like to commodify resistance."
Classes stretching across all departments will open their doors over the two days, including such offerings as the history course heretics and witches in early modern Europe to the French course myths and realities about language.
Many of the courses are higher than introductory level, but Armstrong says that shouldn't be a deterrent.
"Don't worry, you won't be graded on the content! Faculty members know there will be people coming into the class who haven't read the texts or have the background and can adjust to accommodate that," she said.
But of course it's not just the new participants who benefit from the experience, adds Dr. Cruikshank. "It's exciting for the people who are regularly in the class to have some new energy, and I think it's also great for the professor to have some guests."
Those who are interested are invited to view course offerings and register now.
Media Contact: Tabatha Armstrong