UNB law prof helps make private Syrian refugee sponsorship easier for NBers
Author: Communications
Posted on Jan 29, 2016
Category: myUNB , UNB Fredericton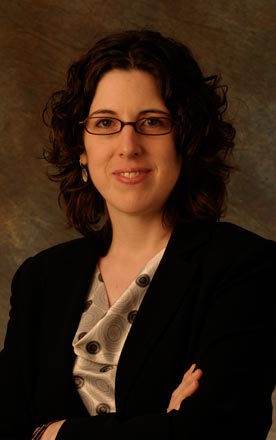 New Brunswick residents who are interested in assisting with the refugee crisis will soon have more support at their disposal.
Thanks to the leadership of UNB law professor Hilary Young, a new chapter of the Refugee Sponsorship Support Program (SSP) will launch in New Brunswick. The program brings together pro bono lawyers, law students, and sponsorship experts to offer support to those looking to privately sponsor refugees.
On Feb. 1, 2016, UNB's faculty of law will host an SSP training session for approximately 25 lawyers to learn how to deliver pro bono services to members of the public who wish to privately sponsor refugees.
Training will be provided by the Refugee Sponsorship Training Program (RSTP), a national organization that specializes in educating and supporting both individuals and groups engaged in private sponsorship. The training will ensure that lawyers in New Brunswick are equipped to provide legal assistance to residents who need help navigating the sponsorship application process, free of charge.
"New Brunswickers' response to the refugee crisis has been incredible," says Dr. Young, who is the New Brunswick coordinator of SSP. "With the SSP expanding to New Brunswick, groups sponsoring refugees will have an excellent new resource in helping to bring refugees to our province."
The SSP is a national initiative supported by Government of Ontario, Toronto Dominion, the University of Ottawa, the Community Foundation of Ottawa, and the generosity of individual donors. Partner organizations include the Refugee Sponsorship Training Program, Grade A, the Canadian Bar Association, the Canadian Association of Refugee Lawyers, the uOttawa Human Rights Research and Education Centre, and Lifeline Syria.
Approximately 1,000 lawyers and 150 law students have registered to donate their time through the SSP with the ultimate goal of helping more Canadians bring refugees safety to Canada, faster.
"Our regional partners are crucial to this program's success," says Jennifer Bond, faculty director of the refugee hub, which founded the SSP. "We are thrilled to be working with New Brunswick lawyers to bring this initiative to another Canadian community."
Fredericton is the tenth Canadian city to launch a regional chapter of the SSP. More chapters are in early stages of development.
For more information, visit the SSP website at www.refugeessp.ca. If you are a lawyer and would like to become involved in Fredericton, contact Hilary Young at hyoung@unb.ca.