Air Canada creates scholarship honouring former Chairman President and CEO Claude Taylor
Author: Communications
Posted on Jan 11, 2016
Category: UNB Saint John , UNB Fredericton , myUNB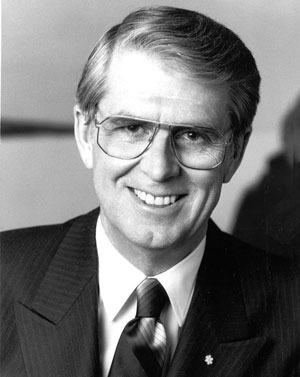 Air Canada is investing $100,000 at the University of New Brunswick over the next 5 years to create a scholarship in honour of its former Chairman, President and CEO Claude Taylor (DCL '80).
Born in Salisbury, NB in 1925, Claude Taylor was a proud New Brunswicker. His career in the aviation industry spanned from 1949 to 1992, beginning as a passenger agent with TCA in Moncton. He was appointed president and CEO of Air Canada in 1976 and was also chairman of the board from 1984 until 1992. During his illustrious career at Air Canada, he made a significant contribution to the growth and development of the airline, spearheading the 1977 Air Canada Act, which saw the company become a stand-alone crown corporation and initiating Air Canada's complete privatization in 1988.
Air Canada is commemorating Claude Taylor's legacy by providing access to post-secondary education through an endowed scholarship in his name at UNB. "Claude Taylor was a proud Canadian and a remarkable man who built a great national airline," said Calin Rovinescu, president and chief executive officer of Air Canada. "While his achievements were recognized with many honors during his lifetime, people were always more important to Claude than awards and recognition and we can think of nothing that would please him more than giving Canada's future leaders access to education in his home province, a place he was so proud of."
The Claude Taylor Scholarship, valued at $4,000, will be awarded to a graduating high school student from across Canada who is entering his or her first year of studies at UNB. The award will be based on academic achievement, community involvement and financial need. "Scholarships allow more students to access the education they need to thrive and to build a better world for all of us," said UNB President Eddy Campbell. "We deeply appreciate Air Canada's generous support of our students through this scholarship program."
Claude Taylor passed away on April 23, 2015, one month shy of his ninetieth birthday. "Dad would have been truly humbled to be honored in such a manner and have the lives of others enriched by the gift of education, which was one of his passions in life," said Claude Taylor's son Peter. "The family could not be more pleased and thankful to Air Canada for creating this scholarship at UNB in my father's name."
About Air Canada
Air Canada is Canada's largest domestic and international airline serving more than 200 airports on six continents. Canada's flag carrier is among the 20 largest airlines in the world and in 2014 served more than 38 million customers. Air Canada provides scheduled passenger service directly to 63 airports in Canada, 52 in the United States and 86 in Europe, the Middle East, Africa, Asia, Australia, the Caribbean, Mexico, Central America and South America. Air Canada is a founding member of Star Alliance, the world's most comprehensive air transportation network serving 1,321 airports in 193 countries. Air Canada is the only international network carrier in North America to receive a Four-Star ranking according to independent U.K. research firm Skytrax. For more information, please visit: www.aircanada.com, follow @AirCanada on Twitter and join Air Canada on Facebook.
Media Contact: Isabelle Arthur Isabelle.arthur@aircanada.ca 514 422-5788
À propos d'Air Canada
Air Canada est le plus important transporteur aérien du Canada à proposer des services intérieurs et internationaux, pour plus de 200 aéroports répartis sur six continents. Le transporteur national du Canada compte parmi les 20 plus importantes sociétés aériennes à l'échelle mondiale et a accueilli plus de 38 millions de clients en 2014. Air Canada fournit des services passagers réguliers directs sur 63 aéroports au Canada, 52 aux États-Unis et 86 en Europe, au Moyen-Orient, en Afrique, en Asie, en Australie, dans les Antilles, au Mexique, en Amérique centrale et en Amérique du Sud. Air Canada est un membre fondateur du réseau Star AllianceMD, le plus vaste regroupement de transporteurs aériens du monde, qui dessert 1 321 aéroports dans 193 pays. Air Canada est le seul transporteur nord-américain d'envergure internationale auquel sont conférées quatre étoiles, selon la firme de recherche indépendante britannique Skytrax. Pour en savoir plus sur Air Canada, consultez le site aircanada.com, suivez @AirCanada dans Twitter et joignez-vous à Air Canada dans Facebook.
Renseignements : Isabelle Arthur, Isabelle.arthur@aircanada.ca, 514 422-5788
About the University of New Brunswick
The University of New Brunswick (UNB) is Canada's oldest English-language university. Founded in 1785, the multi-campus institution has a rich history and a dynamic focus on innovation, experiential learning and entrepreneurship. UNB has nearly 10,500 students from nearly 100 countries while several thousand more take UNB courses online and at partner institutions around the world. UNB contributes significantly to the province with an annual economic impact of $1.2 billion on the provincial economy over the course of one year—equivalent to 4.5 per cent of the gross domestic product of New Brunswick.
Media Contact: Natasha.ashfield@unb.ca, 506-447-3012.