UNB partners with TD and Chalmers Hospital Foundation to host Time Treasure Talent Canadian Women in Philanthropy
Author: Communications
Posted on Nov 27, 2015
Category: UNB Fredericton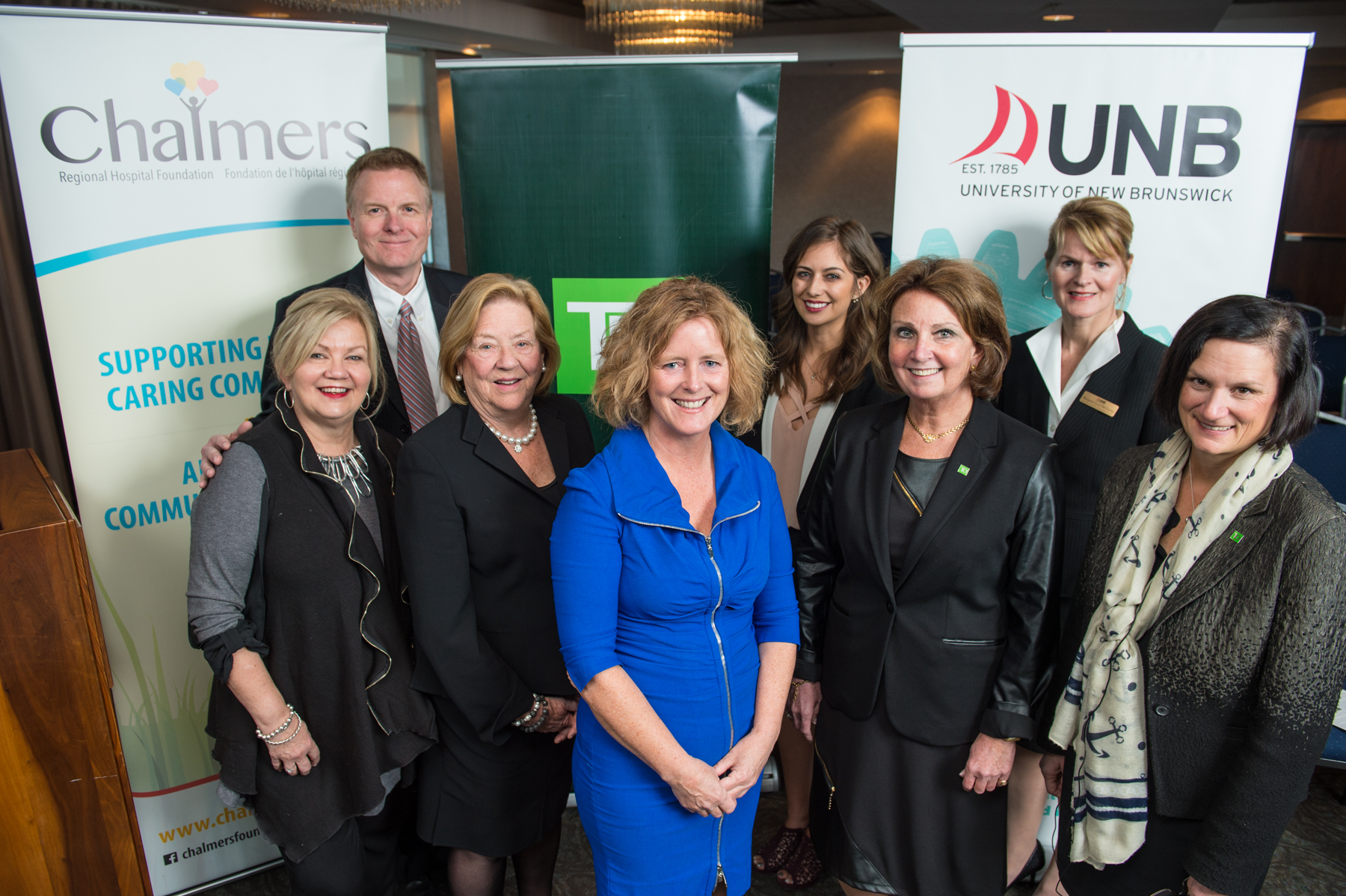 TD Wealth (TD), in partnership with the Chalmers Hospital Regional Foundation and the University of New Brunswick (UNB) recently hosted a panel discussion entitled "Time, Treasure, Talent: Canadian Women and Philanthropy" at the Wu Conference Centre on UNB's Fredericton campus.
The event was inspired by a research report commissioned by TD, entitled Time, Treasure and Talent: Canadian Women and Philanthropy. The report is the first in Canada to look specifically at the relationship between women and philanthropy. Since its publication, TD has been partnering with charities to host events across the country, facilitating engaging discussions around the topic.
The evening's discussion was lead by Mary Dingee Jacobs, TD Vice President and Investment Advisor, in Fredericton. The guest panellists included the Honourable Margaret Norrie McCain, early childhood education advocate and philanthropist; Dr. Eilish Cleary, chief medical officer of the Province of New Brunswick; Kayley Reed, co-founder, Wear Your Label and UNB alumna; and Jo-Anne Ryan, vice president, philanthropy, TD Wealth.
The report found that women donated approximately $3 billion to charitable organizations in 2012, making a tangible impact on the world around them.
"It's through my work at TD and my involvement on various charitable boards" said Ryan, "that I've witnessed first-hand the tremendous impact women have in our communities as a result of their growing economic power combined with their dedication and tireless energy directed toward causes that they care about."
The panelists were all eager to convey that philanthropy is comprised of much more than monetary donations and the act of giving to a cause through one's "time and talent" became a poignant theme of the evening's discussion.
When asked what advice she would have for those who wish to be involved in philanthropic work, but may not have the funds to give, McCain said, "[Charitable organizations] really want you. First and foremost they want your passion, they want your energy, they want your expertise, your knowledge and somewhere along the line if you can write a little cheque that's fine. But the most important thing is you."  
Dr. Cleary went on to add that it's only in relatively recent times that we've come to associate philanthropy with money. "It's really community engagement and participation that makes the difference between a project's success or not," she said. "And so to take away the barrier of money, I think, would allow women to get so much more involved."
Kayley Reed continued the sentiment, remembering what it's like to be a student who may not have monetary gifts to share, but instead can give of their talents. "I think that one of the greatest talents that our young people can bring to these organizations is your knowledge of the Internet and social media," said Reed who helped non-profits manage their online presence through internships that were part of her program at UNB. 
The evening concluded with a question and answer period and a reception.