UNB honours its top teachers
Author: Communications
Posted on Nov 24, 2015
Category: UNB Saint John , UNB Fredericton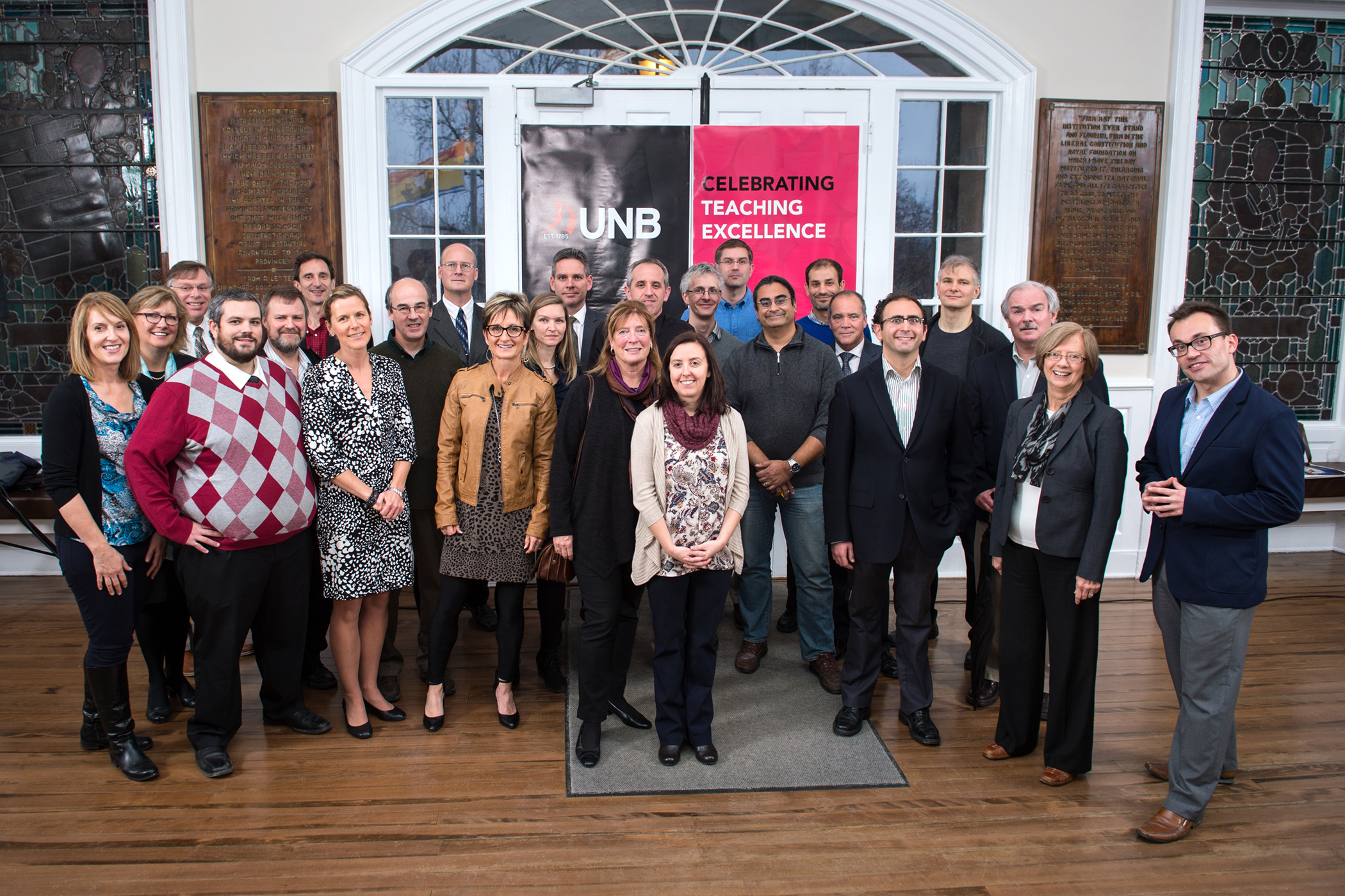 University of New Brunswick honoured 20 of its faculty who won awards this year for teaching excellence. With over 100 in attendance, including senior administration, their colleagues, and members from the community, each of the 20 were recognized, and we caught a glimpse into what factors made them great teachers. 
This year, four major UNB awards were given out:
Kathy Wilson, faculty of nursing was awarded the Neil Scott Educational Leadership Award
Val Reeves, department of chemistry, was awarded the UNB Student Union Teaching Excellence Award
Lyle Hamm, faculty of education, was awarded the Alan P. Stuart Award for Excellence in Teaching
Ben Newling, department of physics, was awarded the Alan P. Stuart Award for Excellence in Teaching, University Teaching Scholar and the Faculty of Science Teaching Award.
UNB also celebrated Frank Collins, faculty of engineering, who was recognized by a national U.S. organization as an "Outstanding First Year Student Advocate". 
Acting Vice President Academic, Jane Fritz, lauded the award winners in her opening remarks, and stated that "teaching is the core of what a university is and what students are here for; the impact of excellent teaching cannot be understated."
UNB Student Union VP Jessie Reid presented the UNBSU teaching excellence award to Val Reeves. He was "pleased to see that the university cares about good teaching, that it makes regular efforts to continually improve teaching quality, and that it recognizes excellent teaching."
The following were also recognized through UNB Fredericton's faculty and department's annual teaching award programs:
Sue O'Donnell, faculty of nursing, CETL Visiting Scholar
Elin Maher – faculty of business administration
Jeffrey McNally – faculty of business administration
Aaron Savage – MBA Professor Recognition Award
Dan Ahern, department of philosophy, faculty of arts
Howard Kislowicz – faculty of law
Jamie Miles – department of chemical engineering
Kerry MacQuarrie – department of civil engineering
Sal Saleh – department of electrical & computer engineering
Andy Simoneau – department of mechanical engineering
Eric Aubanel – faculty of computer science
Sanjeev Seahra – department of mathematics, faculty of science
David Scott – faculty of kinesiology
Charlene Shannon-McCallum – faculty of kinesiology
A group photo was taken of this year's award winners, together with those from past years who were in attendance. 
For more information, contact Natasha Ashfield.