UNB computer science initiative sparks young girls interest in technology
Author: Communications
Posted on Nov 25, 2015
Category: UNB Fredericton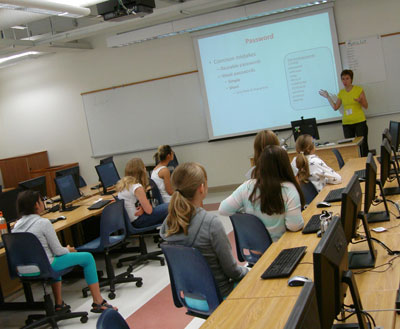 University of New Brunswick's (UNB) faculty of computer science is encouraging young girls to explore the field of information and communication technology through "Girls Hour of Code", the first in a series of coding sessions for girls ages 8 to 10. 
UNB first offered a CyberGirlz summer camp in 2013, and saw great success. Natalia Stakhanova, NB Innovation Research Chair, is hoping to build on this initiative by offering girls a more continuous program. 
When asked what inspired the faculty of computer science to offer these initiatives, Dr. Stakhanova quoted Maria Klawe, president of Harvey Mudd College.
"No. 1, they think they won't like it, No. 2 they think they won't be good at it, and No. 3 they think the people who major in computer science are geeks who have no life, and they don't want to be seen as that," said Klawe in an article in Fortune. 
Dr. Stakhanova is hoping that the faculty of computer science can combat these stereotypes and encourage girls from a young age to explore and engage in information and communication technology by offering these programs and initiatives.
Girls Hour of Code will take place Saturday, Nov. 28 from 11 a.m. to noon at UNB's faculty of computer science, 550 Windsor St. The session is free and walk-ins are welcome, but spots are limited. To register, email cyber.girls.code@gmail.com.
For more information, please email Natalia Stakhanova or call 506-451-6967.
For media interviews, please contact Claire Geldart.