Renaissance College students show point of view with photography exhibition
Author: Communications
Posted on Nov 24, 2015
Category: UNB Fredericton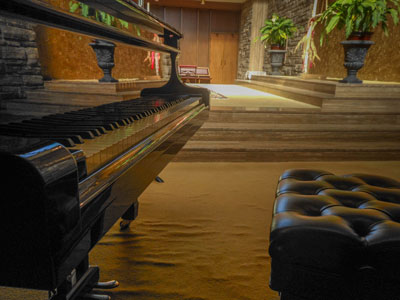 Third-year Renaissance College students are showing the world how they see it in a new photography exhibition.
"From Where I Stand" runs from Nov. 23 to Dec. 2 at the New Brunswick Provincial Archives on UNB's Fredericton Campus.
The collection of photographs were put together under the guidance of instructor Peter Gross for the course Images and Insights. Students were given broad topics for each project, such as self-portraiture, and created photos that represented their unique points of view.
"Everyone has very diverse ways of making their own point of views known their photography," said Nadine Pelletier, whose photos part of the exhibition. "Personally, I tend to take concepts or ideas that are very important to me and turn them into a series of photographs that communicate those ideas to the viewer.
A third-year student at Renaissance College who is also studying toward a major in psychology, Pelletier says she didn't find it too difficult to think of what to photograph for each topic.
"My classmates may feel differently about this, but I feel like the photos in the exhibition represent the diverse ideas, values and goals of the students at Renaissance College," she added. "Even the way we take our photos differently or place importance on different themes really represents how different we are, even if we are a class of 25-30 people."
The public is invited to an opening of the exhibition from 4:30pm – 6:00pm on Nov. 26 at the New Brunswick Provincial Archives, 23 Dineen Drive, UNB Fredericton. Entry to the opening is free.
Renaissance College contact: Nadine Pelletier
Media contact: Hannah Classen