UNB to host men s hockey national championship in 2017 and 2018
Author: Communications
Posted on Oct 30, 2015
Category: UNB Fredericton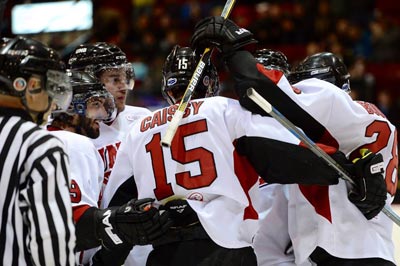 The University Cup is coming back to Fredericton. Canadian Interuniversity Sport (CIS) announced Friday that the University of New Brunswick has been selected as host of the CIS men's hockey championship in 2017 and 2018.
The University Cup national tournament has been held in Fredericton on four occasions in the past, each time with overwhelming success. Capacity crowds of over 3,500 fans filled UNB's Aitken University Centre during a two-year run in 2003 and 2004, and again in 2011 and 2012.
"The University of New Brunswick is honoured to be named host of the 2017 and 2018 CIS men's hockey University Cup," said John Richard, Director of Athletics and UNB Fredericton. "This event will have a significant impact on our campus, our city and the entire region. We feel privileged that the CIS has entrusted us with this event and will put our very best effort forward to provide a memorable lifelong experience for all involved."
The UNB Varsity Reds, who moved to the top of the national rankings earlier this week, have been one of the two dominant programs in CIS men's hockey over the past decade, along with the Alberta Golden Bears. The two powerhouses have combined to win nine of the past 11 University Cup titles, including four UNB triumphs in 2007, 2009, 2011 (on home ice) and 2013.
Before their recent run of success under 16-year head coach Gardiner MacDougall, the V-Reds had also been crowned in 1998 under the guidance of Mike Kelly. MacDougall is a two-time CIS men's hockey coach of the year, including last season, and also received the CIS Jean-Marie De Koninck Coaching Excellence Award last June in recognition of his outstanding career.
Before returning to Fredericton in 2017, the University Cup tournament will be staged for the second straight year in Halifax this winter. The 2016 edition, hosted jointly by Saint Mary's University and St. Francis Xavier University, is scheduled for March 17 to 20 at the Scotiabank Centre.
Alberta is the two-time reigning CIS champion thanks to triumphs last March in Halifax and two years ago in Saskatoon. UNB will be hungry to come out on top again, after losing in the championship final to the Golden Bears last year.
Note: The exact dates for the 2017 and 2018 University Cup tournaments – which will be held in March - will be announced at a later date.