UNB research to support immigrant women and families
Author: Communications
Posted on Sep 29, 2015
Category: UNB Fredericton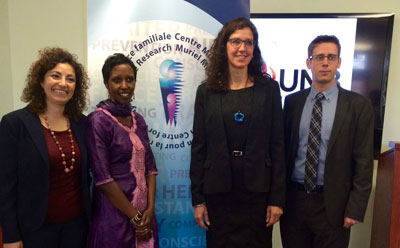 Violence against women remains a widespread and persistent social problem in New Brunswick, impacting women and girls from all racial backgrounds, ethnicities, economic classes, sexual orientations, gender identities, physical abilities, and social locations. Significant progress has been made in responding to and raising awareness about intimate partner violence, but there is much work to be done.
On Monday, Sept. 28, the Muriel McQueen Fergusson Centre for Family Violence Research (MMFC) at the University of New Brunswick in Fredericton (UNB) will announce the award of funding to the New Brunswick Multicultural Council from the Status of Women Canada.
Partners in the project: "Overcoming Structural and Systemic Barriers: a Coordinated Community Response to Domestic and Intimate Partner Violence Experienced by Immigrant Women in New Brunswick" will use the funding to:
Assess and understand the current systemic and structural barriers as well as the state of public services relating to immigrant women experiencing intimate partner violence in New Brunswick.
Develop a coordinated response to intimate partner violence (IPV) experienced by immigrants, involving immigrant leaders, leadership from the public service, immigrant serving agencies, domestic violence and other direct service providers, and universities.
A project of this scope has not been embarked upon before in New Brunswick, however the need for the inclusion of an immigrant lens in a coordinated strategy to address IPV has been identified by provincial stakeholders. The province is experiencing growth in its immigrant population which includes people from many different countries of origin with diverse ethno-religious backgrounds. The members of the project team bring a wealth of expertise in research, service delivery and policy development.
The work will be led by the New Brunswick Multicultural Council, a member of the MMFC's Violence against Immigrant and Visible Minority Women research team. Other team members include researchers from the Sociology Department and Faculty of Nursing at UNB, the Women's Equality Branch of the Executive Council, the Department of Public Safety, the Multicultural Association of Chaleur Region, the Charlotte County Multicultural Association, Liberty Lane Second Stage Housing, and the Fredericton Downtown Community Health Centre.
Media Contact: Hannah Classen, 506-261-4829