UNB partners with NB government for career fair
Author: Communications
Posted on Sep 23, 2015
Category: UNB Fredericton , UNB Saint John
The Government of New Brunswick has partnered with University of New Brunswick (UNB) to encourage more New Brunswick businesses to participate in the 2015 Post-Secondary Career and Educational Options Fair. The fair will take place Thursday, Sept. 24, 2015 from 10 a.m. to 3 p.m. in the Richard J. CURRIE CENTER.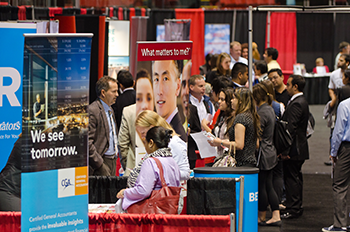 The Post-Secondary Career and Educational Options Fair provides an opportunity for a select number of quality Canadian companies to connect with UNB, St. Thomas University, and New Brunswick Community College recent graduates and students approaching graduation. 
This year, the Government of New Brunswick partnered with UNB to offer New Brunswick companies the option to apply for a subsidy that would reduce their registration fee. This gives smaller and growing businesses the opportunity to take part at the reduced rate and for students and alumni to make connections within the province. 
"We worked with the Government of New Brunswick this year in order to attract more New Brunswick companies on campus to recruit our graduates and help retain them to the province," said Anne Soucy, director of UNB's Career Development and Employment Centre.
"This career fair for post-secondary students provides an excellent opportunity for future job seekers to explore the opportunities to be able to live and work in New Brunswick," said Minister of Post-Secondary Education, Training and Labour Francine Landry. "Our government is pleased to partner with UNB, and we remain committed to connecting students with accurate labour market information." 
The Post-Secondary Career and Educational Options Fair also offers students looking for more information on continuing their education after graduation the opportunity to meet with post-secondary institutions from across Canada and abroad to explore their options. 
For more information about the UNB Career Fair, please contact Anne Soucy at Student Services (506) 453-4620 or asoucy@unb.ca.  
Media contact: claire.geldart@unb.ca