University of New Brunswick appoints Vice-President Administration and Finance
Author: Communications
Posted on Aug 18, 2015
Category: UNB Fredericton , UNB Saint John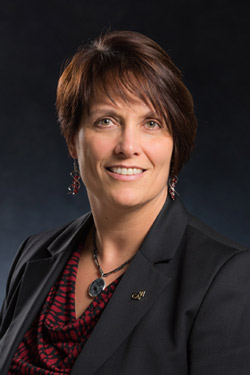 University of New Brunswick President Eddy Campbell is pleased to announce that Karen Cunningham has been appointed Vice-President (Administration and Finance) at the university.
Cunningham, an accountant who has served in a number of progressive leadership roles in the public sector, first joined UNB more than three years ago as university comptroller. Last September, she stepped into the vice-president's role on an acting basis after long-time vice-president Dan Murray retired.
Her appointment this month comes after a comprehensive search for candidates led by a bi-campus committee comprised of a cross-section of the UNB community.
"I'm so pleased to have someone of Karen's calibre recruited to this role," Campbell says. "She is a highly talented finance professional who leads with strength and integrity."
Prior to joining UNB in 2012, Cunningham held a series of successful and progressive leadership roles with the New Brunswick government.
After completing her Bachelor of Commerce degree from Mount Allison University, she earned her chartered accountant designation through the New Brunswick Institute of Chartered Accountants while articling with Doane Raymond (now Grant Thornton) in Fredericton.
She is a member of the Chartered Professional Accountants of New Brunswick, the UNB Masters Swim Club, and the Fredericton chapter of the Financial Management Institute. She has also served on the board of the Capital City Skating Club since its inception.
"I'm proud to be serving with a strong institution like the University of New Brunswick, working alongside people of incredible talent," Cunningham says. "There is genuine commitment to making UNB an even better university for our students and employees."
For more information or interviews, please contact: Sonya Gilks, UNB Communications, 506-453-4546.