Limbic launches hand-crafted longboard business
Author: Communications
Posted on Aug 23, 2015
Category: UNB Fredericton , UNB Saint John
Two University of New Brunswick engineering students have channelled their passion for longboarding into an award-winning entrepreneurial venture.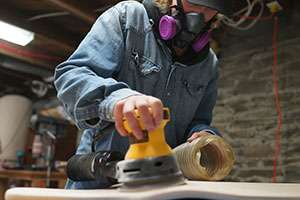 Alex Matson and Andre Aikens are co-owners of Limbic Boards, and have sold more than 30 handcrafted longboards over the past two years.
"We're really trying to get people outdoors with our longboards and enjoying the trails systems in Fredericton," explained Aikens.
While their clientele has been comprised mainly of friends and family thus far, the young entrepreneurs had the chance to further their brand this summer. Limbic Boards was one of only seven local businesses chosen for UNB's Centre for Technology Management and Entrepreneurship (TME) Summer Institute.
The elite summer program gives participants access to three mentors within the Fredericton community, as well as funding that allows them to work full-time on their project for three months.
The TME Summer Institute strives to ensure young New Brunswickers have the resources necessary to create and innovate within their home province. 
"Before the program, we thought we knew what we were doing. We learned quickly from our mentors that we just needed to slow down," said Matson.
They were buying their wood from Toronto and discovered that their supplier was buying the wood from New Brunswick. Aikens and Matson have since set up a close relationship with York North Veneer Products Inc. in Napadogan, NB.
"The guys at the factory have been amazing, setting aside their best stuff. We want each other to be successful," said Matson.
Matson and Aikens are benefitting from the expertise of John Leroux, the institute's designer-in-residence and a well-known local architect.
"We're trying to open their minds and encourage them to be open to great ideas that are around us," said Leroux.
As their time with the Summer Institute draws to a close, Matson and Aikens will be utilizing their newfound knowledge to spread their love for longboarding across New Brunswick- and beyond.
For more information about Limbic Boards, please visit www.limbicboards.com. 
With contributions from Sarah Rouse and Gracen Johnson