Couple aims to decrease NB obesity rates
Author: Communications
Posted on Aug 7, 2015
Category: UNB Saint John , UNB Fredericton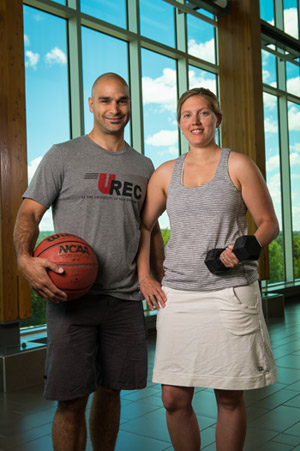 Danielle Bouchard and Martin Sénéchal, who recently joined the University of New Brunswick's faculty of kinesiology, have a lot to offer New Brunswickers and its health care system. Knowing that exercise is the best medicine available, the kinesiology professors have devoted their careers to decreasing Canadian obesity rates and its complications.
Dr. Sénéchal, who studies pediatric obesity and the hormone response to exercise, says if we were to eliminate obesity completely we'd see a 60 per cent decrease in the country's health issues.
"We know we're not going to completely eliminate obesity, but we see the potential to make a big difference here in New Brunswick with the work we're doing. Even if we're able to decrease obesity rates slightly, it would have significant impacts on the overall health of our communities."
Drs. Sénéchal and Bouchard focus much of their research on tackling physical inactivity rates that go hand in hand with obesity.
"It is well known that an active person can reduce significantly the metabolic issues related to obesity if they're regularly active, said Dr. Bouchard. "It's important we keep repeating this point though because our communities—particularly here in New Brunswick—have high rates of inactivity, which result in higher than average obesity rates."
In 2014, Stats Canada reported that the New Brunswick obesity rate was 33.2 per cent, which is higher than the national average. Dr. Sénéchal says about 8 per cent of Canadians have type two diabetes and this number is on the rise. "What is shocking is that this disease, which was once mainly known to develop during middle age is now appearing in kids."
The couple, who moved to UNB from the University of Manitoba this summer, are motivated to push for change.
Dr. Bouchard, who just gave birth to their second child two months ago, works mainly in the area of population health and gerontology. She says she hears lots of people say they need to change their lifestyles, but what many people don't realize is that changing your lifestyle means changing for life; not just for a short period of time.
"Only 13 per cent of Canadians are following Canada's Physical Activity Guidelines," said Dr. Bouchard. "I'm working on finding solutions that will help more people meet these guidelines. I want people to find a way that suits their preferences so they want to make time for it."
The couple met in 2005 during their graduate studies at the University of Sherbrooke.
"In 2010 we got married, in 2013 our daughter was born and our son was born this year," said Dr. Bouchard, who is from Edmundston, NB. "It's nice to be closer to family and be part of a move towards healthy lifestyles in my home province."
Dr. Sénéchal, who is originally from Rimouski, QC, says it's been a busy few months. "We now have a new home in a new province, new jobs and a new baby; however, I am thrilled to be here and start my career where my research interest is needed."
Despite the hectic past few months, they say they're excited to continue their work at UNB and forge partnerships with hospitals, clinics and medical schools in the near future to attract research funding in the province.
Media contact: Natasha Ashfield