Dozens of UNB researchers awarded with NSERC discovery grants
Author: Communications
Posted on Jun 24, 2015
Category: UNB Fredericton , UNB Saint John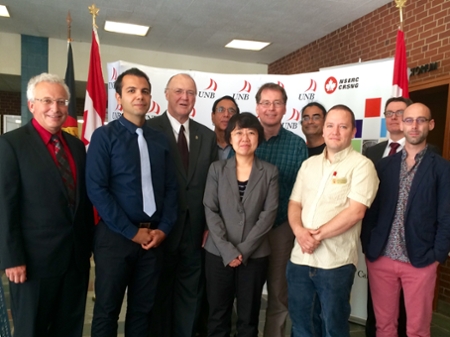 Keith Ashfield, Member of Parliament of Fredericton announced today that 26 researchers from the university were awarded Natural Sciences and Engineering Research Council (NSERC) discovery grants for various research initiatives, totalling more than $3.3 million.
 
"Our government has made record commitments to science, technology and innovation to the social and economic benefit of Canadians," said MP Ashfield. "Today's investment in researchers, like University of New Brunswick's Dr. Trevor Hanson, will ensure that research powers Canadian business innovation to remain competitive in global markets while creating jobs at home."
 
Eddy Campbell, UNB's president, says UNB is home to researchers who are the best in the country at what they do. "We are proud of the pioneering work of our researchers. Our research powers opportunity and innovation in this province and beyond."
 
One of the UNB awardees, Trevor Hanson, was given $115,000 over five years to continue his research in developing rural and community transportation alternatives for an aging population.
"This funding will be crucial for assembling my research team, acquiring the necessary research equipment, and supporting the travel for data collection and dissemination of results," said Dr. Hanson, who works in UNB's department of civil engineering.
 
Today's announcement follows a national NSERC event held in Ottawa earlier this week announcing that more than 3,800 researchers at more than 70 Canadian universities received federal funding worth more than $340 million to support new discoveries in science and engineering that push the boundaries of knowledge, create jobs, opportunities and improve the quality of life of Canadians.

UNB NSERC Discovery Grant Awardees:
Afzal, Muhammad- Associate Professor Mechanical Engineering
Development of novel microwave biorefinery
$25,000/year for 5 years
 
Balcom, Bruce- Professor Physics
Spatially resolved analytical chemistry- magnetic resonance imaging of materials
$107,000/year for 5 years
Barbeau, Myriam- Professor Biology
Ecological linkages between salt marshes and mudflats in Maritime Canada
$32,000/year for 5 years
 
Bourque, Charles- Professor Forestry & Environmental Management
Projection of Abies balsamea distribution under conditions of climate change: incorporation of species plasticity to environmental change
$21,000/year for 5 years
 
Bremner, David- Professor Computer Science
Geometric aspects of optimization
$18,000/year for 5 years
 
Carretero, Juan- Professor Mechanical Engineering
Cable-driven parallel manipulators with extensible rods
$22,000 for 1 year
 
Cook, Christopher Paul- Assistant Professor Computer Science
Automating dictionary construction for better natural language processing
$23,000/year for 5 years
 
Dubay, Rickey- Professor Mechanical Engineering
Industrial Internet model based predictive control for applications using thermal imaging
$22,000/year for 5 years
 
Englehart, Kevin- Professor & Director of the Institute of Biomedical Engineering
Myoelectric control of powered upper limb prostheses
$30,000/year for 5 years
 
Garland, Philip- Assistant Professor Mechanical Engineering
Investigation of bulk material property changes and fatigue strength determination of relazor- PT piezoelectric materials
$23,000/year for 5 years
 
Heard, Stephen- Professor Biology
Host shifts and host-associated differentiation in herbivorous insects; ecological causes and consequences
$40,000/year for 5 years
 
Hildebrand, Eric- Professor Civil Engineering
Road safety engineering and senior drivers
$22,000/year for 5 years
 
Houlahan, Jeff- Professor Biology
Understanding the impacts of climate change on small wetland ecosystems
$21,000/year for 5 years
 
Hughes Clarke, John- Professor & Chair Ocean Mapping
Acoustic imaging of active seabed processes
$22,000/year for 5 years
 
Hunt, Heather- Researcher Biology
Ecology of coastal invertebrates in a changing ocean
$21,000/year for 5 years
 
Kiani, Amirkianoosh- Assistant Professor Mechanical Engineering
Nanofabrication using high frequency laser ablation and laser maskless lithography
$23,000/year for 5 years
 
Kuruganti, Usha- Professor & Assistant Dean of Graduate Studies Kinesiology
Advanced myoelectric control for improved prosthetic function
$22,000/year for 5 years
 
Li, Howard- Associate Professor Electrical and Computer Engineering
Sensor driven multiple robot mapping and exploration
$25,000/year for 5 years
 
Ma, Renjun- Professor Mathematics & Statistics
Generalized linear and nonlinear mixed models for longitudinal and spatial data
$11,000/year for 5 years
 
Seahra, Sanjeev- Associate Professor Mathematics & Statistics
Observational signatures of quantum gravity
$19,000/year for 5 years
 
Song, Wei- Associate Professor Computer Science
Towards green wireless networks: energy-aware techniques for emerging applications with evolving network architectures
$25,000/year for 5 years
 
Stakhanova, Natalia- NB Innovation Research Chair Computer Science
Towards malware author attribution
$18,000/year for 5 years
 
Stewart, Connie- Assistant Professor Statistics
New statistical tools for quantitative fatty acid signature analysis and the development of an accompanying R package
$11,000/year for 5 years
 
Wang, Lin- Associate Professor Mathematics & Statistics
Dynamics of functional differential equations with applications to biology and ecology
$17,000/year for 5 years
Zheng, Ying- Professor Chemical Engineering
Selective transformation of lignocellulose to hydrocarbon chemicals in one reactor
$40,000/year for 5 years
Media Contact: Natasha Ashfield