2 8 million NSERC grant allows Canadian Rivers Institute to study the health of the St John River
Author: Communications
Posted on Jun 26, 2015
Category: UNB Saint John , UNB Fredericton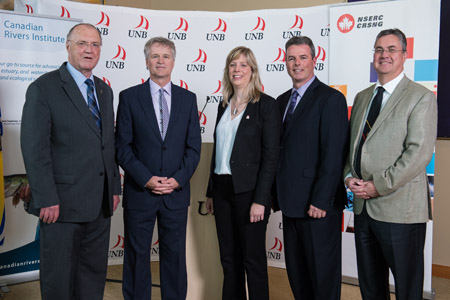 The University of New Brunswick announced today that Allen Curry of its Canadian Rivers Institute has been awarded $2.8 million from the Natural Sciences and Engineering Research Council (NSERC) to conduct an aquatic ecosystem study on the St. John River to support NB Power's future decision on the Mactaquac Generating Station.
This is the largest Collaborative Research and Development Grant ever awarded in Atlantic Canada, bringing the project total to $5.3 million, and will have a significant impact on the province.
The Mactaquac Generating Station is expected to reach the end of its service life by 2030 due to problems with concrete expansion in some of the structures. NB Power is examining how future options might impact people and the environment, along with engineering, economic and scientific considerations, and will choose a path forward in 2016. 
Under the leadership of Dr. Curry, a team began evaluating key environmental challenges related to Mactaquac's future back in 2013, including river health, fish passage and flow management. That work is being supported by a $2.3 million investment from NB Power.
"Our government has made record commitments to science, technology and innovation to the social and economic benefit of Canadians," said Keith Ashfield, Member of Parliament for Fredericton. "This funding will help Dr. Allen Curry and the Canadian Rivers Institute continue their leading research and will benefit the entire St. John River Valley for many years to come."
Encouraging and supporting new discoveries is vital to expand our knowledge and create societal and economic benefits, says NSERC President B. Mario Pinto. "Dr. Allen Curry's dedication and passion for discovery has fostered partnerships with world-renowned researchers and organizations. These collaborations will enable the application of leading-edge knowledge to the environmental challenges facing the Mactaquac community."
This NSERC funding will allow the team to conduct an aquatic ecosystem study through a series of projects that will provide a better understanding of how the river works, which will allow for informed decision-making.
"This is leading research with global significance, conducted right here in New Brunswick," said Eddy Campbell, president of UNB.  "The work undertaken by the Canadian Rivers Institute on this project is literally being watched around the world. We've attracted eight internationally renowned researchers and nearly 50 graduate students because of this pioneering work. This research creates new wealth and new opportunity. It is a compelling example of how UNB fuels both innovation and the economy in New Brunswick."
Dr. Curry said the best scientists in the world are working on this because the implications of the final decision are significant. "There are many large dams that are approaching their end of service life worldwide and science like this has never been done before to this scale, which is why we're seeing a lot of international interest."
"We are very proud to work with the Canadian Rivers Institute and UNB as we consider the path forward for the Mactaquac Generating Station," said Gaetan Thomas, CEO and president of NB Power. "Their work will help ensure sound science is at the heart of our recommendation."
Established in 2001, the Canadian Rivers Institute is the first institute of its kind in the world and has established itself as an international leader in the field of river science. With a collaboration of researchers at the University of New Brunswick Fredericton and Saint John campus that has expanded to a network across Canada and globally, the mandate of the CRI is to develop the aquatic science needed to understand, protect, and sustain water resources for the region, nation, and the planet.