Canadian Federation of University Women Fredericton establishes new scholarship at UNB
Author: Communications
Posted on May 26, 2015
Category: UNB Saint John , UNB Fredericton
The Canadian Federation of University Women Fredericton (CFUW) recently established a new award at the University of New Brunswick. The Dr. Nora Ni Chuiv CFUW Fredericton Graduate Scholarship is an endowed scholarship that will provide $2,000 annually for women pursuing graduate studies in UNB's Interdisciplinary Studies program. This will bring the CFUW Fredericton's scholarship endowments at the University to a total of more than $580,000.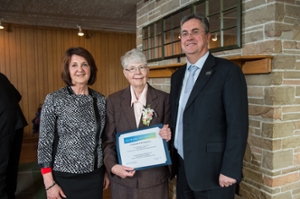 "This is a remarkable degree of support for our university, for which we are truly grateful," said Eddy Campbell, UNB president.
"Scholarships give students from a variety of socio-economic backgrounds the opportunity to obtain an education that will transform their futures. Scholarships such as this one reward achievements and allow students to focus fully on their education and on experiences that enrich their time with us."
Sharon Crabb, the club's president says CFUW Fredericton believes strongly in the power of women working together to create a better world for everyone. "Scholarships like this are an effective way to create opportunities for the next generation and to ensure that they achieve the greatest level of success they desire."
The new scholarship, the seventh established by CFUW Fredericton, also honours the long career and dedication of retired UNB mathematics professor Nora Ni Chuiv, a longstanding member of CFUW Fredericton.
CFUW Fredericton funds its scholarships largely through the proceeds of its annual book fair, which celebrates its 50th anniversary this year and will be held at the Brookside Mall in Fredericton on May 29-31.
About the University of New Brunswick
The University of New Brunswick (UNB) is one of Canada's oldest English-language universities and one of the first public universities established in North America. Founded in 1785, the multi-campus institution is home to over 60 research centres and institutes, groups and ongoing projects. The university offers over 75 undergraduate and graduate programs in 100 disciplines. UNB has over 10,500 students from more than 100 countries, and several thousand more take UNB courses online and at partner institutions around the world.
About The Canadian Federation of University Women Fredericton
CFUW Fredericton financially supports rural school libraries, music programs, post-secondary education for women, and international education for girls and women. It also promotes awareness of such issues as homelessness, human trafficking and pay equity for women and advocates for the rights of women and girls. For further information, visit their website at www.cfuwfredericton.com.