Students vie for cash prizes at annual TME Student Pitch Competition
Author: Communications
Posted on Apr 7, 2015
Category: UNB Fredericton , UNB Saint John
2015 was another record setting year for the J. Herbert Smith Centre for Technology Management & Entrepreneurship's (TME) Student Pitch Competition. 33 teams registered, with over 60 students participating, and 100 people attended the awards dinner where over $8,000 in prizes was awarded.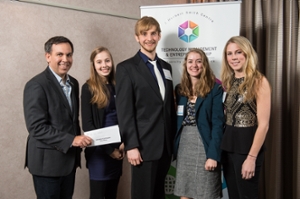 First place in the ideas category went to Reverse Vending Recycling Systems, pitched by third year mechanical engineering student Vuk Stajic. This company proposes installing reverse vending machines in residences and student housing complexes across the country. These machines would be tied into the schools database and automatically apply credit to students' accounts when they insert refundable recycling items. The credit could be split in any way desired between the student, their residence, or any charity or organization agreed upon by those in the complex.
First place in the growth category went to Tempo, which is a motivational workout app that syncs the individuals' music to their heart rate. The app was pitched by Nicole Bendrich, and supported by her teammates Katie Wilson, Ryan MacDonald, and Sophie Daigle -- all electrical & computer engineering and TME students.
Award recipients:
Second place, ideas category: Rollawaye - Jonathan Waye (ECE/TME)
Third place, ideas category: TemProof -  Mitchell Young (CE/TME)
Second place growth category: MatchU  - Angela Roy (MBA)
Third place, growth category: Mint Condition -  Jonathan Kummer (ME/TME), Brent Woodside (ME/TME), Morgan Roggeveen (ME/TME), Travis Parkman (ME/TME)
Communication award: Monamie - Heidi Erdle (MBA)
Innovation award: PiezoPower - Gaurav Malik (ME/TME), Olga Palazhchenko, (PhD CE/TME), Muhamad Mohamad (ME/TME)
Impact award: KnowYourChild - Muhammad Saad Amjad (PhD, CS), Muhammad Ahmad Rathore (PhD, CS), Rizwas Ali (MCS)
Social innovation: Mbissa Wind Energy - Caleb Grove (ME/TME)
Technical innovation: Fulltrax - Mark Eagles (ME/TME), Brandon Sumarah (ME/TME), Ryan Grice (ME/TME), Ryan Maye (ME/TME)
Leadership in education: Dr. John McLaughlin
Entrepreneurship: Kumaran Thillainadarajah, CEO of Smart Skin Technologies and Phil Curley, CEO of HotSpot Parking
Student leadership: Greg Baily, UNB Student Union President, Chemical Engineering/DTME 
This year's sponsors included Cox & Palmer, NBIF, FCNB, The Pond-Deshpande Centre at UNB, International Business and Entrepreneurship Centre in UNB (Fredericton)'s faculty of business, Stantec, Innovatia, Mariner Partners, J.D. Irving, Smart Skin Technologies, and UNB's Engineering Endowment Fund.