Joyce Foundation gives 5 million for student support
Author: Communications
Posted on Apr 13, 2015
Category: UNB Saint John
Donation will fund student bursaries and support UNB's Work-Study program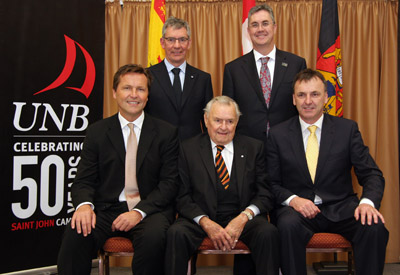 Students at the University of New Brunswick who are in financial need will receive new opportunities to fund their university education, thanks to the generosity of Mr. Ronald V. Joyce, settlor and advisor of The Joyce Foundation.
The University announced that it has received $5 million from The Joyce Foundation, $4.5 million of which will create the largest bursary endowment at the University while the remaining $500,000 will support the University's Work-Study program.
"Education is vital to the economic health of individuals, families and society as a whole but education costs can be a barrier for some students," said Mr. Joyce. "The Joyce Foundation is pleased to help young people attain higher education because when education is accessible to all, everyone benefits."
Mr. Joyce is best known as the legendary Canadian entrepreneur who, in 1964, invested in the first Tim Hortons donut shop in Hamilton, Ontario, and then grew the business into one of the most successful food service chains in the world.
Through its strategic philanthropic work, The Joyce Foundation seeks to build a legacy for the future, through ongoing leadership and innovative partnerships, by promoting improved and meaningful social, economic and emotional engagement for young Canadians.
"We are pleased and honoured to receive such a generous gift," said Dr. Eddy Campbell, UNB president and vice-chancellor. "Obtaining a university education is a life-changing experience, and bursaries can make the difference in whether a deserving young person is able to seize that opportunity."
Bursaries give students with modest economic means the chance to attend university. They also reduce students' need to take on loans or multiple jobs, allowing them to focus on their studies and achieve greater academic success.
UNB's Work-Study program provides part-time, on-campus employment opportunities to students in financial need and in good academic standing. Students work up to 10 hours per week during the academic year, gaining the skills, confidence and experience they need to prepare for successful careers. 
"This very generous gift will ensure that the next generation can realize their full potential and represents a major investment in the future of our region and our country," said Dr. Allison McCain, UNB chancellor and chairman of McCain Foods Limited.
The first eight Joyce Foundation Access Bursary recipients - four in Fredericton and four in Saint John - will begin their studies in September 2015.