UNB honours top students
Author: Communications
Posted on Mar 20, 2015
Category: UNB Fredericton , UNB Saint John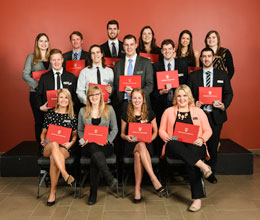 Involvement in their university and community, and high academic standing has earned 16 University of New Brunswick students the distinction of being inducted into the Sir Howard Douglas Society.
The award recipients are all dean's list students who volunteer their time and talents in a number of ways, both locally and internationally.
"The Sir Howard Douglas Scholars are a shining example of what young people can achieve through dedication, kindness, and willingness to help others," says UNB President Eddy Campbell.
Nominated by their faculties, the scholars must have completed two years in their bachelor's degree program, achieved academic excellence and actively participated in co-curricular or extracurricular activities.  Recipients are inducted into the Sir Howard Douglas Society of Scholars.
At a dinner held in their honour, the 2015 scholars were addressed by Jessica Yeates, medical doctor and one of the first inductees into the Sir Howard Douglas Society.
Members of the Sir Howard Douglas Society have the opportunity to participate in special university events and become part of a network of outstanding students. As the honour society grows each year, new members will have the opportunity to meet and interact with past recipients of the Sir Howard Douglas Award. Born in Scotland, Sir Howard Douglas served as lieutenant governor of New Brunswick from 1823 to 1831. 
During his term, he encouraged development, sought support for native peoples, improved communication and promoted education.  Sir Howard was a founder and the first chancellor of King's College Fredericton, predecessor to UNB. 
Established in 2006, the Sir Howard Douglas Society of Scholars has 187 members including this year's inductees.
UNB's 2015 Sir Howard Douglas Scholars are:
Jordan J. Bartlett, Saint John, N.B., bachelor of science, major in biology-psychology, UNB Saint John, believes he learned of his intense desire for knowledge while travelling in China. The trip gave him focus and direction and allowed him to believe in himself. It sparked Jordan's interest in several volunteer organizations on campus. He is on the executive committee for the Golden Key International honour society and is acting as the outreach liaison working to make better connections between Golden Key and other school societies.
Kate Deveau, Fredericton, N.B., bachelor of philosophy in leadership studies, UNB Fredericton, is determined to create social change in a meaningful, effective, and sustainable way. While in Malawi, Africa, Kate helped nursery school teachers improve their teaching skills and lesson plans. In addition, she assisted in the opening of a restaurant run by persons with physical disabilities. Her work at the Graham Boeckh Foundation, a mental health foundation in Montreal, has allowed several universities to implement mental health campaigns.
Kolton Gagnon, Saint John, N.B., bachelor of computer science, UNB Fredericton, has a passion for technology and its application to everyday life. Kolton started his first business in Grade 10. His ambition for entrepreneurship is something that he eats, sleeps and dreams about. Today, Kolton is immersed in the Fredericton startup ecosystem and works for many startup companies.
Gill Kazevman, Kiryat Yam, Israel, bachelor of health sciences, nuclear medicine, UNB Saint John, wants to help save lives. As an avid volunteer with the Saint John Ambulance, Gill has the knowledge and skills to do so. Whether working with campus patrol or instructing a self-defence class, Gill is committed to making our community a safer place.
Ricarda Konder, Recklinghausen, Germany, bachelor of science, medicinal chemistry, UNB Fredericton, has the human eye in her sight. As an ambassador to those with vision problems, Ricarda travelled to Ghana on an expedition to help people with eye troubles. Ricarda's passion led her to the Netherlands Institute for Innovative Ocular Surgery where she completed an intense research fellowship studying less invasive surgery options.
Heather Lord, Oakland, N.B., bachelor of science, major in biology, UNB Fredericton, holds environment, energy and sustainability at the core of her being. Heather spends many hours as a friendly visiting and goodnight program volunteer with two New Brunswick hospitals. When not volunteering or studying, Heather spends her time working with one of New Brunswick's most prominent and successful locally grown companies.
Christopher Mahar, Saint John, N.B., bachelor of business administration, major in human resource management, UNB Saint John, wants students to have all the tools necessary to obtain the best education and student experience possible. Through his work with the Promise Partnership, Christopher has helped students enhance their literacy and math skills by showing them the importance of education and enabling them to be whatever they want to be.
Andreas Marquis, Fredericton, N.B., bachelor of science in engineering, mechanical, UNB Fredericton, believes that life should be a dynamic and creative experience. As a visionary, Andreas founded the university's first rocket club with the intention of providing an environment dedicated to students with a keen interest in the field of Aerospace. Andreas is a true optimist, artist and dedicated student with a love of learning.
Danny McMullen, Brampton, Ont., juris doctor, UNB Fredericton, understands that he not only needs to learn about the law, but has a responsibility to change it to better serve society. Danny, along with Stewart McKelvey Fredericton, leads the Wills Project at UNB, which helps those who are in need of wills or powers of attorney but are unable to afford the assistance of a legal professional.
Thomas Murphy, Harvey Station, N.B., bachelor of science, honours in psychology, UNB Fredericton, believes that growing up in a small, close-knit community instills a unique set of core values. Thomas spent time volunteering in Chintsa East, South Africa where he realized, once he becomes a physician, he wants to spend a portion of his career helping underserved and impoverished communities.
Shea Nordheim, Winnipeg, Man., bachelor of education, UNB Fredericton, is increasing literacy and numeracy skills for youth in poverty. Shea is passionate about Right to Play and understands sport can play an integral role in personal development. By coaching, he leads children to live a healthy and active lifestyle while also having fun in a safe and inclusive environment. When he isn't volunteering, Shea can be found proudly representing UNB and creating school spirit as a member of the Varsity Reds men's soccer team.
Nicole Saulnier, Riverview, N.B., bachelor of arts, honours in political science, UNB Fredericton, wants to make post-secondary education more accessible and affordable for students. Nicole believes it is fundamental that students are engaged in events occurring on and off campus. Her work with the UNB student union, faculty of arts, and Political Science Students' Association is proof of her commitment. When she's not volunteering with students at UNB, Nicole can be found entertaining seniors at an assisted living facility with her fiddle music.
Hilary Swan, Kitchener, Ont., bachelor of philosophy in leadership studies, UNB Fredericton, understands that we are stronger together than we are apart and sometimes the most challenging choices end up being the most rewarding experiences. Hilary has turned her passion for the outdoors and helping others battling mental illness into a career. She is starting an Outdoor Therapy Centre to treat individuals battling mental illness. Her work as the president of the Renaissance College Society has helped make sure fellow students feel their voice is heard.
Jenny Thistle, Stephenville, Nfld., bachelor of science, medicinal chemistry, UNB Fredericton, has a passion for helping those touched by cancer. In honour of her late mother, Jenny initiated and chaired the very first Relay for Life event at UNB in 2011, sponsored by the Canadian Cancer Society. As a peer mentor, Jenny interacts with a diverse group of students and contributes to real change.
Katie Wallace, O'Leary, P.E.I., bachelor of science in kinesiology, honours in kinesiology, UNB Fredericton, has a passion for helping others. Katie spends her free time volunteering at local food banks, helping children learn to read, mentoring and lifeguarding. Always giving back, Katie is focused on keeping herself in top form with her commitment to the UNB varsity cross country and track and field teams.
Randi Watson, Doaktown, N.B., bachelor of computer science, UNB Fredericton, wants to help better students at UNB and our community. Randi has helped the Computer Science Association establish two annual fundraisers: a 24-hour gaming event to raise money for the IWK (Extra Life) and food/money drive for the Fredericton Food Bank. Her enthusiasm for UNB prompted her to volunteer at the UNB open house, SOAR early registration events, and giving tours to prospective students and speaking at awards dinners.