UNB Alumnus develops Smart Cane that could speed up post-op recovery
Author: Communications
Posted on Mar 3, 2015
Category: UNB Fredericton , UNB Saint John
Graeme Powell is a 2014 University of New Brunswick Fredericton graduate in science and electrical engineering that has developed a product to help improve recovery from a hip or knee surgery.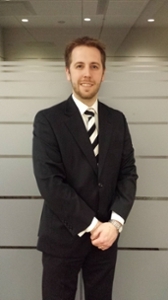 As part of their rehabilitation, hip and knee replacement patients need to offset a percentage of their body weight to an assistive mobility aid such as a cane, a process called Partial Weight Bearing (PWB).  PWB is the balance between putting enough weight on the affected limb to promote healing of the bone and prevent excessive loss of the surrounding muscle tissue while keeping enough weight off the joint so that it does not fracture or dislocate.  Being able to measure the amount of weight being placed on a cane has the ability to improve rehabilitation outcomes.  This is where the Smart Cane comes in.
Powell and his team have developed the Smart Cane that detects and logs how much weight a patient is putting on it. 
"If a patient is not following their doctor's orders the cane will alert them with a vibration in the handle, said Powell "Additionally, the information being logged by the cane is sent to the patient's doctor.  This will allow medical professionals to determine if the patient is using the cane properly and, if not, make adjustments accordingly."
Powell's company, Doctor's Orders, started small through a Technology Management and Entrepreneurship Centre course in UNB's faculty of engineering.
"It was awesome," said Powell. "It provided many opportunities to look at the start-up community in New Brunswick and gave birth to my company Doctor's Orders. My team had an interest in biomedical engineering, so we were asked to come up with a weight sensing cane. We took the challenge and that is how Doctor's Orders started."
Powell is now the company CEO, while co-founders — Alex Belyea, Kadie Wright and Ghislain Maillet — are pursuing their master's degrees at UNB's Institute of Biomedical Engineering. Powell had a good experience at UNB, but what stood out the most was that his professors cared about his success.
"The majority of my professors were approachable and willing to take time to ensure their students understood what was being taught." 
So far, the team has made the first iteration of the product and is now working with the Institute of Biomedical Engineering on the second. They are developing a clinical trial program with Dalhousie Medicine New Brunswick, which is a partnership with the government of New Brunswick, the university of New Brunswick and Dalhousie's faculty of medicine. The team plans to seek regulatory approvals from Health Canada and the Food and Drug Administration in the United States.
Media Contact: Natasha Ashfield
*Contributed to by Sarah Beaney