Pacey lecturer to discuss the importance of Canada s wilderness
Author: Communications
Posted on Mar 31, 2015
Category: UNB Saint John , UNB Fredericton
This year's W.C. Desmond Pacey Memorial Lecturer, James Bernard (J.B.) MacKinnon from Vancouver, has spent years studying the importance of Canada's wilderness and our relationship to it.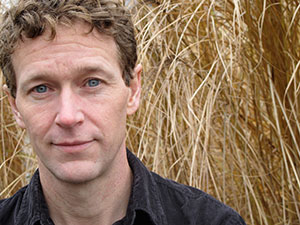 MacKinnon will present "The Still-Wild Country: Why Canada's Wilderness Matters to the Future of Life on Earth" at the University of New Brunswick Fredericton campus, on Wednesday, April 8, at 5:30 p.m. in the Alfred G. Bailey auditorium in Tilley Hall, Room 102; and at the Saint John campus on Thursday, April 9 at 5:30 p.m. in Irving Hall, Room 107.  There is no admission charge and everyone is welcome to attend.
MacKinnon is the author or coauthor of four books of nonfiction. His latest, The Once and Future World, was released in September 2013. Previous works are The 100-Mile Diet (with Alisa Smith), a bestseller widely recognized as a catalyst of the local foods movement; I Live Here (with Mia Kirshner and artists Michael Simons and Paul Shoebridge), a 'paper documentary' about displaced people that made top 10 lists from the Bloomsbury Literary Review to Comic Book Resources; and Dead Man in Paradise, the story of a priest assassinated in the Dominican Republic, which won Canada's highest prize for literary nonfiction. His latest national bestseller, The Once and Future World: Nature As It Was, As It Is, As It Could Be, won the U.S. Green Prize for Sustainable Literature.
As a journalist, MacKinnon has won more than a dozen national and international awards in categories as varied as essays, science writing, and travelogue. He is a past editor of Adbusters, the 'culture jamming' magazine that launched the Occupy movement, and a past senior contributing editor of Explore, Canada's national outdoors magazine. His stories have ranged from the civil war in Southern Sudan to anarchists in urban North America to the overlooked world of old age among wild animals.
MacKinnon is a rock climber, mountain biker, snowboarder and birdwatcher. He lives with his partner Alisa Smith in Vancouver, Canada.
The W.C. Desmond Pacey Memorial Lectures were established in 1981 in honour of the late Desmond Pacey, a UNB professor and administrator who died in 1975. The lecture is presented by leading figures in humanities and social sciences.
Media contact: Natasha Ashfield
* Contributed to by Sarah Beaney