New scholarship program provides international experiential learning opportunities for UNB students
Author: Communications
Posted on Mar 13, 2015
Category: UNB Fredericton , UNB Saint John
Of the 1,900 scholarships recently offered to universities across Canada through the new Canadian Queen Elizabeth II Diamond Jubilee Scholarships program, the University of New Brunswick was awarded 67 scholarships, which will provide its students with the opportunity to gain hands on experience in their field of expertise, while earning academic credit.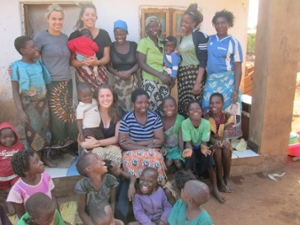 UNB received close to $500,000 over the next four years, which is the maximum amount awarded per project proposal. UNB is the only New Brunswick university to successfully secure these scholarships and one of 5 universities in Atlantic Canada.
The scholarship program, which was formed by the Rideau Hall Foundation and Canada's community foundation network, will help develop the next generation of innovative leaders and community builders, both locally and globally. Canadian students at the undergraduate and graduate levels will participate in internships or academic study for periods of three months to one year in another Commonwealth country. Scholarships will also be available to students from Commonwealth countries to attend a Canadian university for masters or doctoral studies. The Scholarships form part of university-designed projects that address pressing local, national and global development challenges.
UNB is currently working with partners in Malawi, Zambia, Ghana, Jamaica, Barbados, Trinidad and India to offer its students an opportunity to gain hands on experience or conduct research in their field of expertize while receiving academic credit.
Veronica McGinn, UNB's coordinator of international development with the office of Global Learning and Engagement, says she's hoping to expand this list in the coming years.
"What makes the Queen Elizabeth II Diamond Jubilee Scholarship program so valuable is that each student has an opportunity to actively design a program which will apply the theory they have been learning to challenging, real world experiences," said McGinn. "This gives them a real advantage when entering the Canadian or International workforce." 
The students who receive the scholarship are named "Queen Elizabeth Scholars" and will become part of UNB's Commonwealth community.
UNB students can apply now www.unb.ca/exchange/outgoing and McGinn says she encourages all and any student to contact her if they are interested in an experience which will test what they know and challenge their world views. 
"There seems to be a misconception among students that internship opportunities such as this one are out of their reach", says Veronica McGinn. "Global Learning and Engagement is developing international opportunities for all UNB students. Students can participate in academic exchanges, internships, co-op placements, language schools, summer courses and field schools around the world."
McGinn says an international internship is invaluable to students not only for the benefits of self-discovery and broadening their cultural scope, but for their careers as well.
"Every behavioural-based interviewing question recent university graduates are asked during a job interview can be answered by one international experience."
The Canadian Queen Elizabeth II Diamond Jubilee Scholarships were Jointly announced by Governor General David Johnston, Prime Minister Stephen Harper and former Prime Minister Jean Chrétien, in June 2014. The scholarships were awarded to PSE institutions across the country last week. For more information visit, www.queenelizabethscholars.ca or contact Veronica McGinn.
Media Contact: Natasha Ashfield