Varsity Reds spread holiday cheer
Author: Communications
Posted on Dec 23, 2014
Category: UNB Fredericton , myUNB
The time leading up to Christmas is a busy one for most university students. But each year the UNB Varsity Reds women's basketball team makes sure to set aside some time to give back to the community that gives them so much all year long.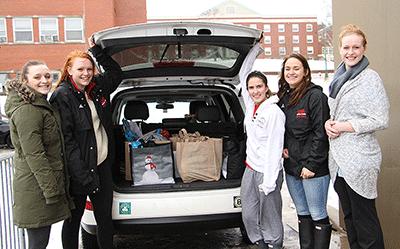 This year, the V-Reds once again adopted a family through a local program run by the Salvation Army. It's something that's become a team tradition.
"I've been doing this with the teams that I've coached for about 20 years," head coach Jeff Speedy said. "We put our name in and tell them that we want to adopt a big family because there's a lot of us. We've got a family with six kids under the age of ten, so we're bringing them some clothes, some presents and a Christmas dinner."
It might be the coach's idea, but it's definitely the players who bring it to life, shopping for each of the family members and putting together the hampers.
When asked about the program, the players break out into huge smiles. 
"I got to shop for the seven-year-old boy, so I got him a nerf gun and some other things," point guard Colleen Daly said. "And we got the newborn some diapers and the mom some gift certificates... It's just so nice to be able to give back to the community."
And even though it might be a busy time in the university schedule, player Hannah Currie says it's definitely worth making the time
"Definitely during exam time this is a fun thing to do," Currie said. "Being able to make someone else's day really lifted our spirits. As well as hopefully lifting theirs."
"My job as their coach is to help them grow as people and students," Speedy added. "Not just basketball players. And the only way I really know how to do that is to get them involved in things that are bigger than they are - bigger than we are. So whether it's this or whether it's something else, I think it just makes them realize how fortunate they are to be student-athletes in Canada. So we're trying to give back and open their eyes a little bit at the same time."