New Brunswick Children s Foundation provides gift for University of New Brunswick and Mount Allison research
Author: Communications
Posted on Dec 19, 2014
Category: UNB Saint John
$750,000 donation to assist in development of a virtual health centre in New Brunswick
The New Brunswick Children's Foundation has invested $750,000 to assist researchers at the University of New Brunswick (UNB) in Saint John and Mount Allison University in Sackville in developing a virtual health centre to provide more convenient and integrated care for children with complex health issues.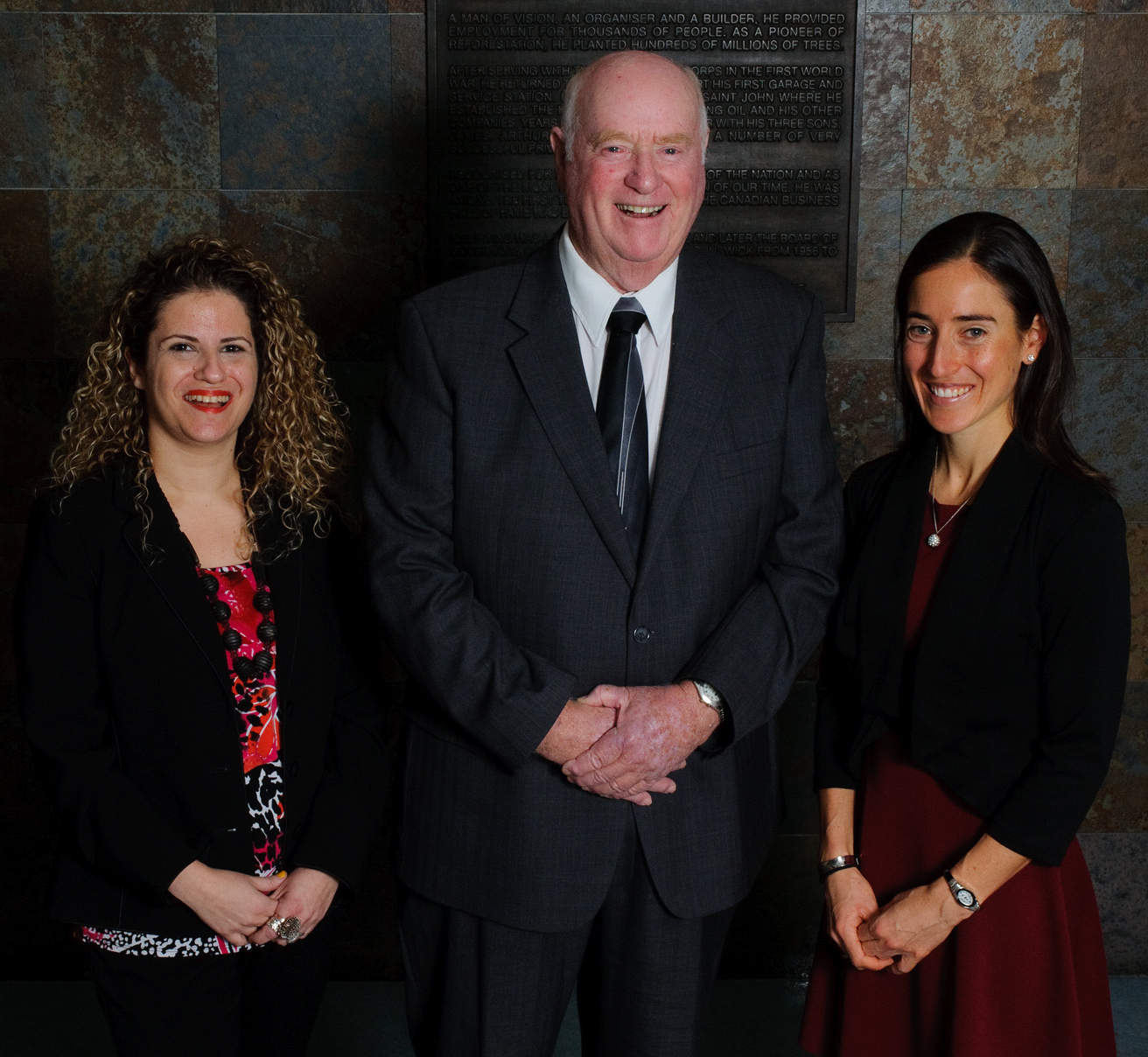 The centre, initially hosted at UNB, will improve access to prompt diagnosis and offer critical information and support for families by ensuring that they have access to integrated collaborative care that is timely, convenient, and meets the unique health care needs of this population.
The proposed centre will be the first of its kind in New Brunswick and will include a unique patient navigator, or registered nurse in a triage role who will assist families and effectively move patients through the system, depending on their health-care needs.  This role will remove barriers to care and ensure children and their families receive appropriate support in a thorough and cost-efficient manner.
This project will be led by Dr. Shelley Doucet, the Jarislowsky Chair in Interprofessional Patient-Centred Care and an Associate Professor in the Department of Nursing and Health Sciences at UNB Saint John, and by Dr. Rima Azar, an Associate Professor in the Psychology Department at Mount Allison University and the Canadian Institutes of Health Research/Regional Partnership Program New Investigator in developmental psychoneuroimmunology.  
 "This project will ensure that every child with complex health-care needs receives the treatment he or she requires, in the appropriate setting for their families," said Dr. Doucet. "We are so thankful for the support from the New Brunswick Children's Foundation for this important initiative."
"It is both reassuring and refreshing that the New Brunswick Children's Foundation is investing in child and youth health. This shows how much our province cares for its children," added Dr. Azar. "This is crucial, especially when Canada has not fared well in international comparisons of child health over the past ten years, according to UNICEF rankings."
Drs. Doucet and Azar, plus an extensive team of collaborators, will oversee the development of the virtual health centre, which will begin with a year-long, province-wide needs assessment, followed by feasibility studies and follow-up evaluations on short-term and long-term effectiveness.
Since its incorporation in 1855 as the Saint John Protestant Orphans' Home, the New Brunswick  Children's Foundation has focused on helping children succeed by financially assisting charities that share a common vision.
 "I am delighted with this development as it takes us back to our roots with the New Brunswick Protestant Orphanage Home," said Peter Daniels, a director with the New Brunswick Children's Foundation. "Once again, it allows us to help New Brunswick children. This program is a perfect fit for all of our aims and objectives."
About the New Brunswick Children's Foundation
The New Brunswick Children's Foundation assists needy and disabled children by providing financial resources to registered charities throughout New Brunswick.  Funding is made possible by the income derived from accumulated capital that arose after the sale of the New Brunswick Protestant Orphanage Home property and generous gifts from individuals and groups. The Foundation has been helping New Brunswick children succeed since its beginning in 1855 as an orphanage.
About the University of New Brunswick
The University of New Brunswick (UNB) is one of Canada's oldest English-language universities and one of the first public universities established in North America. Founded in 1785, the multi-campus institution is home to over 60 research centres and institutes, groups and ongoing projects. The university offers over 75 undergraduate and graduate programs in 100 disciplines. UNB has over 10,500 students from more than 100 countries, and several thousand more take UNB courses online and at partner institutions around the world.
About Mount Allison University
Located in Sackville, New Brunswick, Mount Allison University is home to approximately 2,400 students and has been ranked Canada's #1 undergraduate university by Maclean's magazine more times than any other university.  Founded in 1839, the University offers five undergraduate degrees — Bachelor of Arts, Bachelor of Science, Bachelor of Fine Arts, Bachelor of Commerce, and Bachelor of Music — as well as a Master of Science degree.
Media contact: Heather Campbell