UNB team wins SHAD s 2014 Entrepreneurial Challenge
Author: Communications
Posted on Nov 6, 2014
Category: UNB Fredericton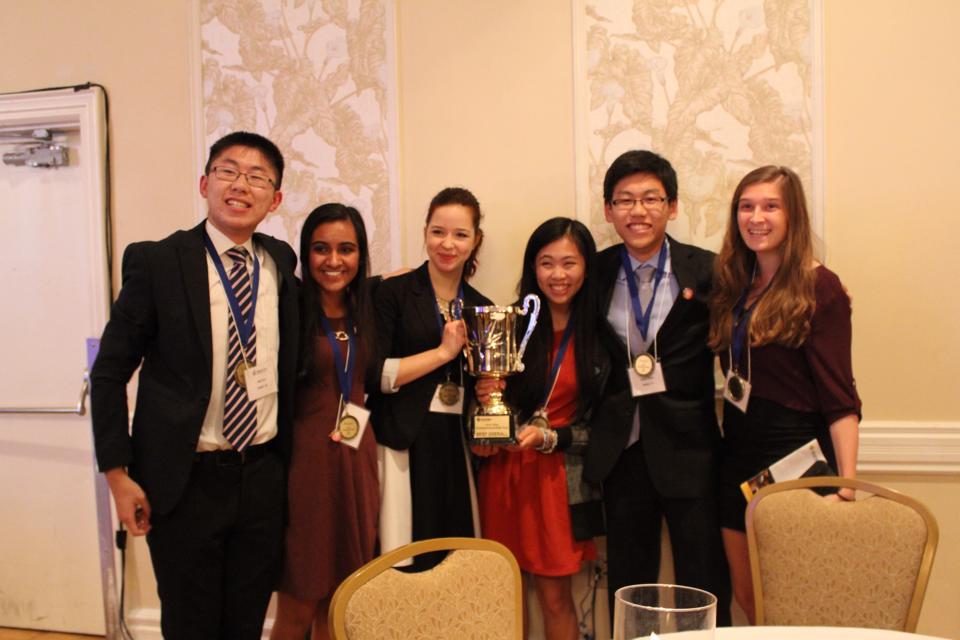 A group of high school students who attended the SHAD leadership camp at the University of New Brunswick this summer was one of two teams who tied to win the national SHAD Cup in this year's Entrepreneurship Challenge, announced recently in Waterloo, ON.
Teams were challenged with the theme of 'Living large with a small footprint', testing students' ability to apply scientific principles in solving a real-life problem that impacts society.
Capacity, developed by the winning UNB team, is a compact, automated greenhouse shelving system for both commercial and urban farm settings that uses vertical space and an intelligent rotary system to allow a much higher yield of vegetables from the same amount of space, addressing the issue of shrinking availability of arable land to support the world's population.
Daniel Doiron, professor of business at UNB's Saint John campus worked with the students to hone their idea and their business plan.  "In three weeks these students went from an idea for their Capacity product to having a demonstrable prototype and complete business plan," said Doiron. "We are fortunate at UNB to have a community of entrepreneurs, investors and educators who provided their time and inspiration to help with this program."
This win was a first for UNB on the SHAD national stage and exemplifies the depth of the entrepreneurial community at UNB and in New Brunswick.
A Canadian registered charity, SHAD provides exceptional Grades 10, 11 and 12 students with an immersive learning experience focused on STEM disciplines (science, technology, engineering and math). The awards were attended by 400 SHAD alumni, friends, and supporters. 
SHAD's program is held annually at 12 host university campuses across Canada where more than 700 students live in-residence for the month of July. As part of the program, student teams create simulated startups, developing products and constructing prototypes, along with creating marketing and business plans and designing websites. The outcomes are assessed by panels of expert judges and final selections from across Canada compete in the SHAD Cup.
"At SHAD, we help young people envision their ability to create new things and bring about real, positive change in the world," said Barry Bisson, SHAD president. "The SHAD Entrepreneurship Challenge is the first time exceptional students encounter entrepreneurial thinking, and many find it a transformational experience that impacts their future careers."
For more information, visit: http://www.shad.ca/newsFlash/news.cfm?ww_newsFlashID=5B400E55-F4BE-9F6C-307F-3537D22247E1