UNB celebrates Poetry Weekend in the poetry capital of Canada
Author: Communications
Posted on Oct 1, 2014
Category: UNB Saint John
Poets and literary enthusiasts from across Canada will converge at the University of New Brunswick in Fredericton this weekend for the annual Poetry Weekend.
"Poetry Weekend is the most beloved poetry festival in Canada," says UNB English Professor Ross Leckie.  "It is the only festival that has nationally renowned poets coming from Montreal and Toronto without pay just to be a part of it."
Poetry readings from featured guests will take place on Saturday, Oct. 4 and Sunday, Oct. 5 at 11 a.m., 2 p.m. and 8 p.m. each day in Memorial Hall.
Featured guests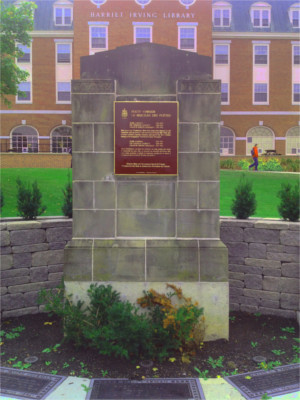 Don McKay
Stevie Howell
James Arthur
Robin Richardson
Paul  Vermeersch
Linda Besner
Rob Winger
Travis Lane
David Seymour
Jeffery Donaldson
"Poetry Weekend fits in with the generous spirit of poetry that has always inhabited and haunted Fredericton, Canada's one and only 'Poets' Corner,'" says Leckie.  
"Held at UNB, it provides a fabulous opportunity for students not only to hear famous poets read, but to read their own work right alongside them, and to hang out and talk poetry all weekend."
Poetry Weekend is presented by the Canada Council for the Arts, the League of Canadian Poets, the Writers' Union of Canada, the UNB department of English, the UNB Bookstore, The Fiddlehead, Icehouse (Goose Lane) Poetry, Biblioasis, and the Porcupine's Quill.
Admission to Poetry Weekend is free and everyone is welcome to attend.
Media contact: Kelsey Seymour