Time capsule discovered in Canada s oldest university building
Author: Communications
Posted on Oct 14, 2014
Category: UNB Saint John
Craig Hickey has seen many things underground when excavating construction sites, but nothing like what was discovered recently under a set of steps at the University of New Brunswick's Sir Howard Douglas Hall.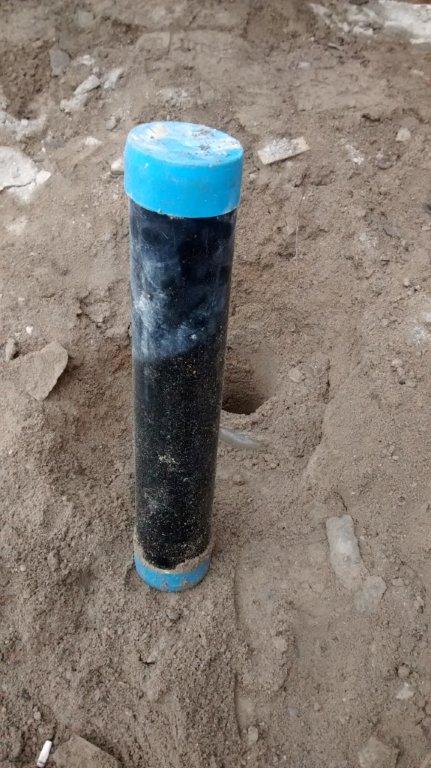 Almost 20 years ago, Eric Garland, then associate vice-president (administration) at UNB, decided to preserve a piece of history by placing a time capsule inside the concrete steps of Canada's oldest university building still in use today.  The time capsule was discovered recently by a construction crew.
"Before we began our work, we were alerted to the fact that there was a time capsule somewhere in the area and to be aware of it while we were excavating," said Hickey, UNB's facilities management project manager.  "The capsule was actually located within the steps and was found as the old steps were being dismantled."
Although the time capsule was discovered, its contents will remain a secret says Barbara Nicholson, associate vice-president of capital planning and property development at UNB.
"In 1978 Eric Garland was responsible for finding the location of the original 1826 cornerstone of the Old Arts Building (Sir Howard Douglas Hall) as part of the celebrations for the 150 anniversary of King's College," said Nicholson.  "To me it only seems fitting we respect Garland's wishes and open the time capsule to coincide with the 250 anniversary of King's College in 2078." 
Nicholson says that although no formal records can be located detailing the contents of the time capsule, recollections of former UNB employees indicate that Garland personally placed a number of items in the capsule and requested it to be opened in 100 years.  
Despite curiosity, the capsule was never opened and has been replaced in the new steps of Sir Howard Douglas Hall, marked with a plaque that details the step restoration and the capsule location.
Eric Garland died in 1997. Over the course of more than 40 years at UNB, he was a student government leader, captain of the basketball team, manager of the rugby team, professor of engineering, president of every professional association and learned society he was eligible to join, and a member of the university senate and board of governors. After serving as acting dean of engineering, Garland became director of planning in 1970, and was appointed assistant vice-president (administration) in 1974. In 1986 he assumed his final position at UNB, associate vice-president.  Garland Court on the Fredericton campus is named in honour of his significant contributions to the university and greater Fredericton community.

The University of New Brunswick is one of Canada's oldest English-language universities and one of the first public universities established in North America. Founded in 1785, the multi-campus institution is home to over 60 research centres and institutes, groups and ongoing projects. The university offers over 75 undergraduate and graduate programs in 100 disciplines. UNB has over 10,500 students from more than 100 countries, and several thousand more take UNB courses online and at partner institutions around the world. Recently named Canada's most entrepreneurial university, UNB continues to be a leader in discovery and innovation while providing exceptional and transformative student experiences.