National Bank supports innovation and entrepreneurialism with 100 000 donation to UNB
Author: Communications
Posted on Oct 28, 2014
Category: UNB Fredericton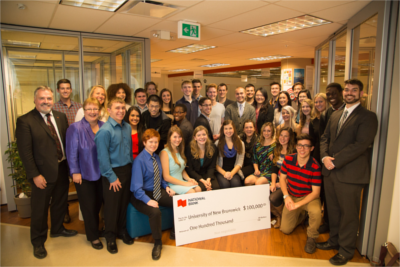 National Bank is partnering with the Pond-Deshpande Centre at the University of New Brunswick to support programming for the next generation of entrepreneurs.
Through a generous donation of $100,000, National Bank is providing funds for the Technology Innovation Funding Program and the Student Ambassador Program at the Pond–Deshpande Centre (PDC).
"National Bank has a long tradition of promoting entrepreneurship," said Michael McManus, the National Bank's regional manager for Western New Brunswick and Prince Edward Island. "We recognize the importance of supporting today's entrepreneurs, whether they are experienced or just starting out."
"Promoting education is also one of our core values. We firmly believe developing talent is vital for communities to prosper and to keep pace with our changing economy."
The announcement took place Tuesday in Fredericton during an introduction of the 2014-15 PDC Student Ambassadors. This year's cohort will take part in a documentary produced by Hemmings House, which will follow these passionate, action-oriented students from universities across the province as they learn about and champion an entrepreneurial culture in Atlantic Canada.
Technology Innovation Funding provides seed capital paired with mentorship to early stage innovators in order to assist with idea and market validation, the development of business models, raising capital and preparation for market launch.
"With a combination of ideas, skills and passion, we can support development of tomorrow's economic leaders with investments and mentorship," said Karina LeBlanc, executive director for the Pond-Deshpande Centre.
Programs at the Pond-Deshpande Centre assist emerging entrepreneurs and innovators whose social and tech business ideas potentially have high impact on the community. 
The centre was founded in 2011 by Dr. Gururaj "Desh" Deshpande (MSE EE '75, DSc '01), president and chairman of Sparta Group LLC, Jaishree Deshpande, treasurer of Sparta Group LLC, and Dr. Gerry Pond (BA '66, DLitt '04), chairman of Mariner Partners who brings over 40 years of in-depth experience in the information and communications technology.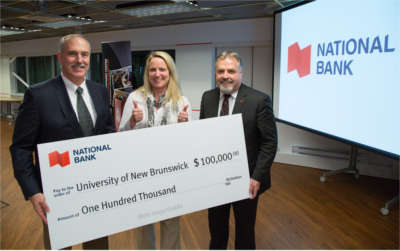 "The University is extremely pleased with the development of the Pond-Deshpande Centre, and of the major role it plays in establishing and perpetuating a truly unique experiential learning opportunity for our students," said Dr. Anthony Secco, UNB vice-president academic in Fredericton.
"This partnership allows UNB to promote common goals of the National Bank and the Pond-Deshpande Centre and other UNB programs – areas directly relating to entrepreneurialism, innovation and education."
About National Bank of Canada
With $199 billion in assets as at July 31, 2014, National Bank of Canada (www.nbc.ca), together with its subsidiaries, forms one of Canada's leading integrated financial groups. The Bank has more than 20,000 employees and is widely recognized as a top employer. Its securities are listed on the Toronto Stock Exchange (TSX: NA). Follow the Bank's activities via social media and learn more about its extensive community involvement at clearfacts.ca and commitment.nationalbank.ca.
About the University of New Brunswick
The University of New Brunswick (UNB) is one of Canada's oldest English-language universities and one of the first public universities established in North America. Founded in 1785, the multi-campus institution is home to over 60 research centres and institutes, groups and ongoing projects. The university offers over 75 undergraduate and graduate programs in 100 disciplines. UNB has over 10,500 students from more than 100 countries, and several thousand more take UNB courses online and at partner institutions around the world.
Media contact: Sonya Gilks