UNB welcomes new students at Commencement ceremony in Fredericton
Author: Communications
Posted on Sep 1, 2014
Category: myUNB , UNB Fredericton
Commencement, an inaugural ceremony to welcome new University of New Brunswick students, will be held on Tuesday, September 2, at 10:15 a.m. in The Richard J. CURRIE CENTER.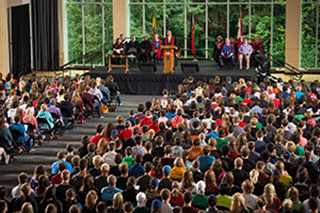 This annual ceremony is an opportunity to officially welcome new students to the Fredericton campus and celebrate their entry into higher education. Commencement and Encaenia (UNB's graduation ceremony) are ceremonies seeped in the university's rituals and traditions, and act as "bookends" to the academic experience of UNB students.
Commencement will begin with a procession from the Mackay Promenade (the grassy area downhill from the Student Union Building) and will include messages from UNB's President, Dr. Eddy Campbell, and UNB's Associate Vice-President Fredericton (Learning Environment), Dr. Shirley Cleave.
New students will be led to the Mackay Promenade by deans and faculty members, dressed in academic gowns, from their faculty. Students will line up under their faculty banner in preparation for the procession.
If the rain plan is to be put into effect, new students will be led directly to the CURRIE CENTER for the ceremony by those responsible for orientation in the faculty.
Please direct media inquiries to Kelsey Seymour or visit our Orientation in Fredericton page for more information.