UNB student in the running to be Canada s Smartest Person
Author: Communications
Posted on Sep 25, 2014
Category: myUNB , UNB Fredericton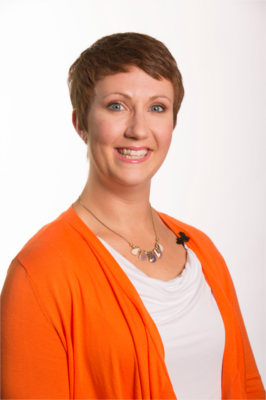 Kate LaFrance, who is currently a part-time student pursing her 5th university degree, has many talents to accompany her book smarts.
LaFrance teaches at Nackawic Middle School and on her spare time she can be found playing football, coaching track, bagpiping, step dancing, opera singing and knitting—just to name a few of her hobbies.
Of the thousands of people across Canada who applied to be a contestant on CBC's Canada's Smartest Person, LaFrance made the cut along with 32 other Canadians.
LaFrance sent the application link to her father thinking it would be of interest to him, but he encouraged her to apply.
"I thought it couldn't hurt to throw my name in and thought it would be a great experience for my students as well," said LaFrance. "The last week of school is always an exciting time, but it was even more exciting for me because that's when I found out I had made cut."
LaFrance says she loves the show because it measures many different types of intelligence and the contestants are very representative of Canadians.
"There was a great mix of people in the show; students, Olympians, musicians, novelists, electricians, pilots, etc.," said LaFrance.  "I was really interested because I thought it would be inspirational for my students, as well as other students across the country, because the show demonstrates how everyone is good at different things," said LaFrance.  "This is exactly what we try to teach in school. There's no distinct 'smart' or 'not', the question is, how are you smart."  
The show tested six areas of intelligence including physical, musical, linguistic, logical, social and visual. 
The show will premiere on Sunday, Sept. 28, and LaFrance will appear on the Nov. 2 episode.  The winner of the eight episodes will appear on the finale to be named the Canada's Smartest Person. 
"It's been a such a fantastic experience and I hope people tune in," said LaFrance.