UNB Art for New Spaces Committee selects artist for major work in the Hans W Klohn Commons
Author: Communications
Posted on Sep 25, 2014
Category: UNB Saint John , myUNB
New Brunswick artist Deanna Musgrave has been selected to create a large mural for the Hans W. Klohn Commons on the Saint John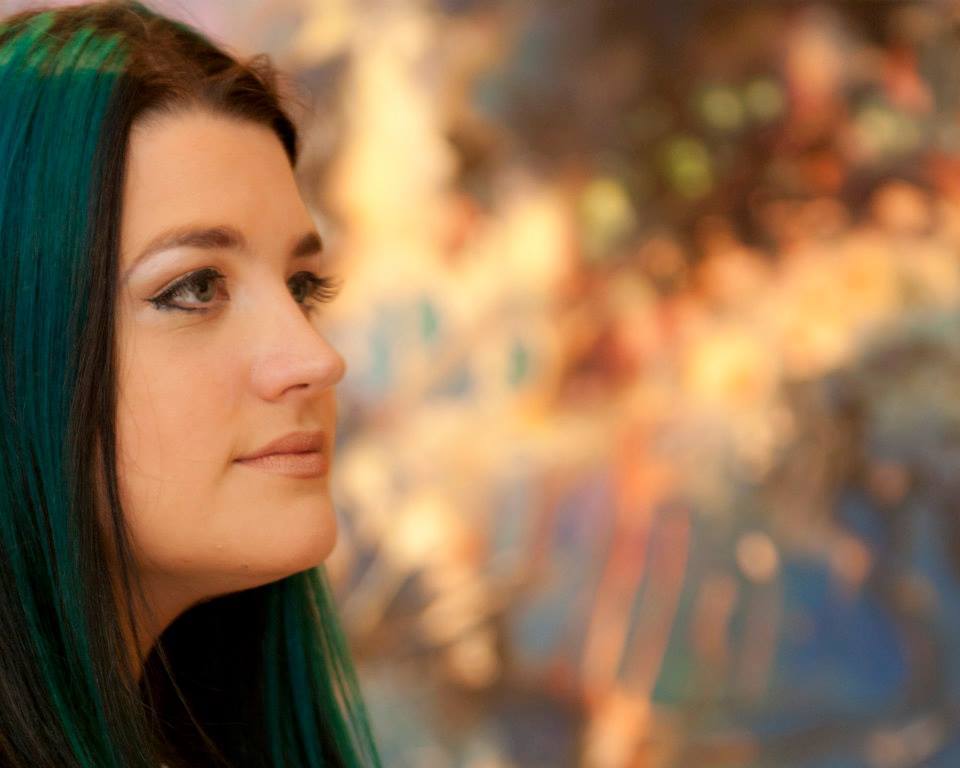 campus of the University of New Brunswick.  Ms. Musgrave's concept was chosen from among five reviewed by UNB's Art for New Spaces Committee.
"The committee was unanimous in its decision," said Bernard Riordon, director emeritus of the Beaverbrook Art Gallery, who chairs the Art for New Spaces program.  "Deanna is an up-and-coming young artist who has distinguished herself over the past decade.  She is ideally suited to creating a large work that will capture the spirit of an architecturally significant building and that will be appreciated by generations of students now and in the future."
Her proposed painting is an ambitious work: a large abstract mural comprising multiple panels that will cover the 11-x-52-foot wall overlooking the Commons entrance.  The imagery of this work will be a large sky-like cloud or nebula referencing the evolution of thoughts, consciousness and the storage of knowledge. 
The mural will be unveiled in April as part of UNB's 50th anniversary celebrations of the Saint John campus.
A native of Sackville, now based in Saint John, Ms. Musgrave has had a solo exhibition of her works in each of the past eight years since her graduation from the Mount Allison fine arts program in 2005.  In 2007 she was selected by the Beaverbrook Art Gallery for its Studio Watch exhibition aimed at introducing promising new artists to the public.  Her work has also been included in numerous group shows in New Brunswick and at the International Toronto Art Fair.  Most recently her work was included in "Off the Grid: Abstract Art in New Brunswick" at the Beaverbrook Art Gallery.
Ms. Musgrave has spoken extensively at various conferences, gallery exhibitions and workshops around the region.  She holds a Bachelor of Education degree in art and music education and a diploma in university teaching from UNB, and has been an instructor at the Beaverbrook Art Gallery, St. Thomas University, the New Brunswick College of Craft and Design, and various school and community programs.  She has a special interest in creating social change through art, a subject of several of her lectures.
Her work has been enthusiastically reviewed by the New Brunswick media, and she has won numerous grants and awards from the New Brunswick Arts Board, Mount Allison University and UNB, and the Social Sciences and Humanities Research Council. 
Funded by a bequest from alumnus J. William Andrews, the Art for New Spaces program at UNB was established in 2008 to commission artwork from New Brunswick artists for new or renovated buildings utilized primarily by students.  These works are to contribute to the aesthetic environment and architectural impact of the facilities in which they are placed.
Art for New Spaces previously commissioned a painting, "The Hill," from Glenn Priestley for the C.C. Jones Student Services Centre at UNB Fredericton and contributed to the recreation of the Fred Ross mural, "The Destruction of War and Rebuilding the World Through Education" in the Richard J. CURRIE Center, UNB Fredericton.