New scholarship celebrates impact of UNB alumnus on national and provincial community
Author: Communications
Posted on Sep 8, 2014
Category: UNB Fredericton , UNB Saint John
In an accounting career spanning more than 35 years, Roland J. "Rollie" Lutes was the quintessential professional, making a powerful impact on the Canadian and provincial business communities. To honour his contributions, Rollie's family and friends have established the Roland J. Lutes, C.A. Memorial Scholarship to assist students in the Faculties of Business and Business Administration.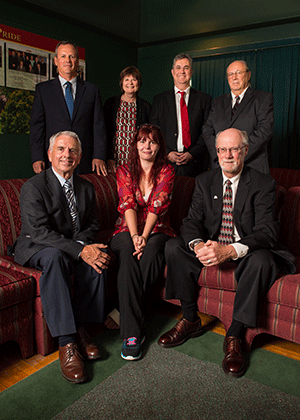 Madison Rolfe of Fredericton, a second-year business student majoring in accounting, is the inaugural recipient of the full-tuition scholarship, which is awarded to a student who has completed the first year of a business program and demonstrated strong scholastic performance and financial need.
The announcement of the scholarship was made today in honour of Rollie, his career and his legacy, both in the corporate world and in the many charitable organizations he supported.
"My father enjoyed a great career and developed into one of the most sought after advisors in Atlantic Canada during his career with Ernst & Young," said Jim Lutes. "He also was a generous mentor to many. He worked hard and I am proud of the example he set."
A native of Moncton, Rollie graduated at the top of his class from the University of New Brunswick in 1958 and quickly developed into one of the top professionals in the country. He was also the founding chair of the St. Joseph's Hospital Foundation, and UNB's Faculty of Business Administration Advisory Council and was national president of the Canadian Association for Community Living.  He gave generously to his community and was committed to the highest professional standards. 
"We're grateful for such strong support from remarkable friends of our university. Rollie's contributions to the business community and the community at large have had a lasting impact on those whose lives he touched," said UNB President and Vice-Chancellor Dr. Eddy Campbell.  "With this tribute to Rollie, we are building future leaders, and continuing our dedication to academic excellence."
Through the support of Lutes family and many of Rollie Lutes' friends, as well as the New Brunswick University Opportunities Fund, the endowment will provide a business student with a full-tuition scholarship, making it the largest, most prestigious scholarship at UNB specifically for business students. 
The University of New Brunswick (UNB) is one of Canada's oldest English-language universities and one of the first public universities established in North America. Founded in 1785, the multi-campus institution is home to over 60 research centres and institutes, groups and ongoing projects. The university offers over 75 undergraduate and graduate programs in 100 disciplines. UNB has over 10,500 students from more than 100 countries, and several thousand more take UNB courses online and at partner institutions around the world.
For media inquiries, contact:
Natasha Ashfield, UNB Communications Officer
(506) 447-3012
(506) 260-4851 ©
Natasha.ashfield@unb.ca