Dr Kathleen Valentine named new dean of nursing
Author: Communications
Posted on Sep 12, 2014
Category: UNB Fredericton , myUNB
Dr. Kathleen Valentine has joined the University of New Brunswick (UNB) as dean of nursing. She comes to UNB from the Massachusetts General Hospital Institute for Heath Professions where she served as associate dean for clinical affairs and community engagement.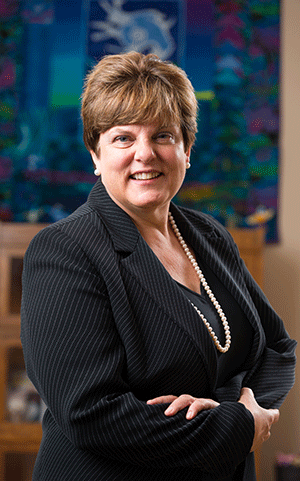 Dr. Valentine has previously served as an associate professor and associate dean for outreach at Florida State University's College of Nursing, and department chair and associate professor at the University of Wisconsin, Eau Claire.
She has a PhD and master of science in health administration from Cornell University, a master of science in psychiatric and mental health nursing from Syracuse University, and a bachelor of science from the State University of New York.
In addition to her research and teaching, she has held various clinical positions, including director of the Memory and Wellness Center and Diabetes Center at Christine E. Lynn College of Nursing at Florida Atlantic University.
Dr. Valentine is past president of the International Association for Human Caring (IAHC), founding editor for the International Journal for Human Caring and advisor to its editorial board.  
Her research focuses on the economic value of human caring, nurse managed primary care clinics, and interprofessional collaboration. Her leadership in complex health care organizations across the United States includes hospital systems, large multi-specialty physician practices, health care insurers, and academic nursing.
While director within the US's largest not-for-profit Health Maintenance Organization, Kaiser Permanente, she led regional and national initiatives to advance professional nursing practice, including interprofessional electronic record implementation, caring, and magnet hospital designation.
Dr. Valentine has consulted with national and international health care organizations that range from the Moscow Psychologic Institute, to Mayo Clinic. She has a track record for securing philanthropic gifts and extramural funding. As a native of Buffalo New York, she is undaunted by cold weather.
Her five-year term began on August 1, 2014.