UNB s Kevin Englehart inducted into Canadian Academy of Engineering
Author: Communications
Posted on Jul 25, 2014
Category: UNB Fredericton , UNB Saint John
Kevin Englehart, director of the Institute of Biomedical Engineering at the University of New Brunswick, has spent almost 20 years advancing technology that has improved the life of amputees across the world.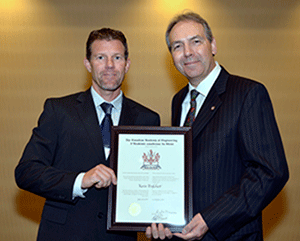 Englehart was among 49 Canadians inducted into the Canadian Academy of Engineering recently in Saint John's Nfld.  
He is recognized internationally in the field of biomedical engineering as a leader in developing effective and affordable prosthetic control systems and powered prostheses.
David Burns, UNB's vice-president research, says Englehart's accomplishments as a researcher are something the university is proud to be associated with.
"Kevin's collaborative approach has led to significant advances in prostheses for Canadians and beyond," said Burns. "He is internationally recognized and his work is widely cited in the literature. Grad students come to UNB to work with Kevin and people around the world know of UNB because of him. He's a great advocate of his profession, his colleagues and the university."
Decades of fundamental research, mostly supported by national and provincial granting agencies, have allowed Englehart and his colleagues to develop human-machine interfaces that allow amputees much better control of their prostheses. From 2005 through 2009, UNB participated in large projects funded by the U.S. Defense Advanced Projects Agency (DARPA) that dramatically advanced the engineering and medical science of prosthetics. More recently, Englehart's team is focusing on making these technologies commercially available, and affordable so that they may supported by insurance companies.
Two of his former students at UNB, Levi Hargrove and Blair Lock, have founded the company Coapt Engineering that is selling a control system that embeds much of the advances made from years of fundamental research.
Englehart says seeing the impact of his research on the lives of thousands of people around the world is rewarding in itself, but it's still an honour to be recognized by his peers.
"As a researcher motivated primarily by improving the quality of life for those in need of artificial limbs, this type of recognition is certainly not something that that would have ever occurred to me," said Englehart. "I'm very pleased that the academy recognizes the importance of the work that we do."
The Canadian Academy of Engineering (CAE) is the national institution through which Canada's most distinguished and experienced engineers provide strategic advice on matters of critical importance to Canada. The CAE is an independent, self-governing and non-profit organization established in 1987. Members of the CAE are nominated and elected by their peers to honorary Fellowships, in view of their distinguished achievements and career-long service to the engineering profession. Fellows of the Canadian Academy of Engineering are committed to ensuring that Canada's engineering expertise is applied to the benefit of all Canadians.