UNB celebrates newest startups at Foundry Fest 2014
Author: Communications
Posted on Jul 29, 2014
Category: myUNB , UNB Fredericton
Five new businesses are being showcased at the first Foundry Fest on Wednesday, July 30 at 6:30 p.m. at the Station on York in Fredericton. The celebration of local business and entrepreneurship concludes the inaugural year of the Dr. J. Herbert Smith Centre for Technology Management and Entrepreneurship's (TME) Summer Institute Foundry program at the University of New Brunswick.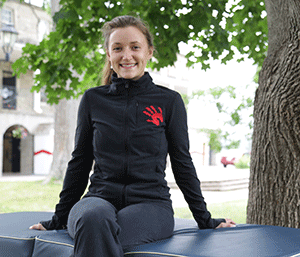 The diverse businesses coming out the Foundry program have gone from concept to revenue in under three months, finding support and companionship in their peers in the program.
"The best thing Foundry could offer us was this team," says Kati Waygood who created Waygood Mobile Therapy for chronic health care patients who cannot or do not want to travel to a clinic or gym. "I'm expanding my business prospects by getting an additional degree in Alberta next year. Before the program, I wasn't sure what my future would be in New Brunswick but now that I've got this support network, I know I can return."
Kayley Reed has put off her master's degree from the esteemed Parsons School of Design in New York to expand her socially-conscious fashion company in Fredericton with business partner, Kyle MacNevin. Together, Reed and MacNevin have created Wear Your Label, a style-savvy clothier that aims to take the stigma out of mental health.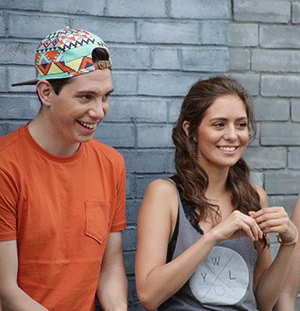 "We never expected to get 30 pre-orders this quickly - and internationally too," says MacNevin. "Three months ago, we didn't even have a shirt to show off and now we can screen print our own. We've learned so much."
"That's been such an important part of this program," Reed adds. "Our design mentor, Philip Leblanc, was able to help us put designs to fabric rather than being at the mercy of a distant supplier. It has been a great way to test the market with little risk."
Reed and MacNevin are now setting up studio space downtown. Their Do-It-Yourself attitude is reflected in another Foundry peer, fiber artist and educator, Anna Haines. Haines, a recent grad from the New Brunswick College of Craft and Design, has an impressive collection of designer pieces to her name, winning international awards. However, Haines' passion for fibre arts (i.e.creations from wool) is half in the teaching. The young Frederictonian aims to sell kits and teach her craft worldwide through video tutorials while enjoying the lifestyle a smaller city can provide.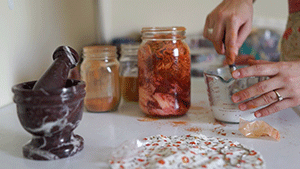 "Not only do I love teaching, but the educational side of [my business] Ploome financially supports my own art creation," Haines says after releasing her first online tutorial. "This business is giving me the freedom to be an artist and stay close to home. I'm excited for the day that I can hire a team and afford other artists this same opportunity."
Providing opportunity for others is a common theme among the Foundry grads who unanimously hope to create lasting jobs for others in the community. Danny Nguyen is especially motivated by creating job prospects - even for his parents. With the support of his family and friends, Vietnamese-Canadian Nguyen has launched Beyond Saigon, a Vietnamese Street Food joint with lunch delivery by bicycle. Nguyen noticed that banh mi sandwiches were taking off in Toronto and wanted to introduce the popular street food to Atlantic Canada.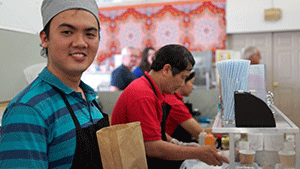 "This has been a gift to my family," Nguyen explains. "Starting Beyond Saigon has given my parents [formerly an architect and doctor] a chance to work together in a second career for a different stage in their life."
Nguyen hopes to grow and franchise Beyond Saigon while helping new immigrants get adjusted to life in Canada. Meanwhile, he has partnered with local bakery Café d'Ici to supply his sandwich baguettes and keep revenue in the community. He is optimistic about expansion, but is starting small with lunch catering to businesses and meetings.
Local food is a shared concern for all of the businesses, perhaps none more so than Oasis Farmery. Business partners Jake Wildman-Sisk and Andrew Mathis have been busy engineering modular aquaponic growing systems to help develop a distributed local food supply. Anyone will be able to buy one of their kits and raise trout or tilapia while growing vegetables using very little land or water resources.
"We've been working on this idea for months," explains Wildman-Sisk, "but Foundry and partnering up with Andrew [a classmate and engineer] has allowed us to turn that business pitch into a prototype. Doing so has helped us reformulate the economics and business model of our product, and completely rebrand it."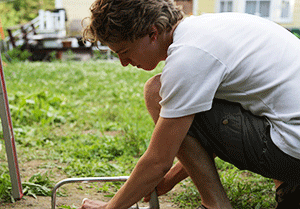 "This program asked us to start small which made our prototype more affordable and approachable," Mathis adds. Still, it requires a ton of trial, error, and improvisation so I've been happy to put my engineering education and research into action. We're quite proud that our prototype came in under budget."
Each business will be sharing their story and progress at Foundry Fest on Wednesday evening. Community members are invited to join a celebration of local business on the evening of July 30 at The Station on York. You can buy your tickets online.

Media contact: Gracen Johnson: 506-260-6655, gracen.johnson@unb.ca, http://summerinst.ca.